18 January 2013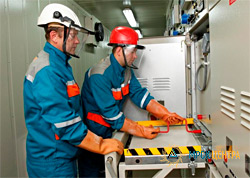 The joint All-Russian competitions of professional skill of repair crews of FGC UES and IDGC Holding finished in Sochi. It was attended by representatives of 21 energy companies of the electric grid complex of Russia.
The competitions were held in order to enhance professional skills and promote best practices for electrical maintenance personnel in preparation of the Sochi power grid facilities for the Winter Olympic Games in Sochi in 2014.
IDGC of Centre's crew won third place. The company's specialists demonstrated their professionalism, experience and achievements during a stage of repairing several substations in the resort settlement of Lazarevskoye in Sochi Distribution Zone.
Head Judge of the competitions — Deputy Head of Department of Technical Supervision of FGC UES Fedor Zhukov underlined that all of the participating crews showed a high level of professional skills, the participants used new technologies and innovative solutions in the field of organization and performance of repairs.
Following the results of the competitions the main judiciary committee made recommendations to use the best practices of the winning crews in the regular production activity.