21 December 2012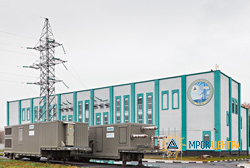 In order to further improve the reliability of power supply IDGC of Centre has acquired a mobile 110 kV substation of 25 MVA manufactured by Siemens Group.
The primary purpose of mobile substation, which is a completely self-contained power source, is providing consumers with temporary or back-up power for the liquidation of the consequences of technological failures or while constructing a permanent substation. The mobile substation can also be used to unload the grid during peak demand for electricity customers located in areas where the construction of stationary substations is unprofitable.
The mobile station is a construction of two modular units, located on the platforms of two semitrailers 12-13 metres long and 3 metres wide. In one of the modules 110 kV gas-insulated switchgear and a 110/10 (6) kV power transformer of 25 MVA is installed and in the other — a block-container with 10 (6) kV switchgear and auxiliary systems for control and protection. The modules are connected by 10 kV flexible cables of XLPE 25 metres long.
Among the technical advantages the mobile substation experts name the ease of installation and low maintenance, remote monitoring and remote control in the operation system, absence of open live parts and there is a plug connection for conductors and cables.
The fact that the mobile substation is indeed a powerful tool for solving complex problems to eliminate multiple interruptions caused by natural phenomena or man-made disturbances, power engineers could find out during the emergency exercise, held in early November at the site of the Lipetsk branch. During the exercise, electricity supply of conventional consumers was provided with the mobile substation within a few hours.
Currently, the mobile substation is being securely stored at IDGC of Centre — Lipetskenergo division. Staff has been trained to work with the mobile substation and is ready for its installation and setup at any power facility. An agreement has been entered with transport companies to move the substation. If necessary, the mobile substation may be used in other branches.