5 December 2012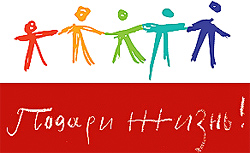 Charitable Foundation "Give Life", founded by actresses Dina Korzun and Chulpan Khamatova, is grateful to IDGC of Centre for the assistance provided to children. "We sincerely thank you for your support of the act of the charitable foundation. All personal donations and aid, which were collected by the staff of the executive office of IDGC of Centre on the Day of the donor, were transferred to the treatment of children,"- the letter says.
Please, be reminded that during the Day of the donor, which was held on July 31 this year, 32 employees of the company gave more than 15 liters of blood. It was directed to children with hematologic and other serious diseases in the Federal Centre for Pediatric Oncology, Immunology and Hematology. In addition, many employees of the executive staff of the company made their personal donations.
All participants of the summer act in IDGC of Centre are expressing their sincere desire to make the Day of the donor a tradition: after all each person who gave the blood is sure that he or she will at least help children with severe hematological diseases a very little more.