20 November 2012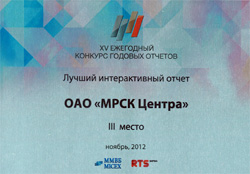 The Unified MICEX-RTS Exchange summarized the XV Annual Report Contest: the interactive annual report of IDGC of Centre took third place in the nomination "Best online annual report". The awarding ceremony was held within the Annual Working Meeting of representatives of the Group "Moscow Exchange" with issuers and managing companies.
This year's winners were determined by members of the contest committee, consisting of representatives of the Federal Service for Financial Markets, SKRIN, PARTAD, NP RID and several other organizations. Annual reports of more than 150 companies, participating in the contest, were evaluated in 17 categories.
IDGC of Centre's web site also was third in the category "Best design and navigation of the website" at the XV annual federal contest of annual reports and websites, conducted by the Journal "Securities Market" in partnership with the Federal Service for Financial Markets. In 2012, 86 Russian and foreign companies took part in the contest — representatives of various sectors of the economy.
IDGC of Centre's annual reports have repeatedly been recognized with awards in various contests of annual reports and websites. The quality of corporate reporting — a major component of the Company's image and its positioning to the investment community.