16 November 2012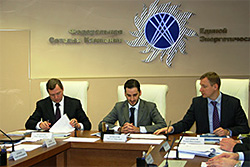 Deputy General Director for Investments Dmitry Andryushin, Deputy General Director for Technical Issues — Chief Engineer of IDGC of Centre Sergey Shumakher attended the meeting chaired by Deputy Minister of Energy of the Russian Federation Mikhail Kurbatov, which discussed the preparation of grid facilities for the winter maximum load of 2012-2013 and the results of the first month operation through the autumn-winter period. The meeting was held in the Situation and Analytical Centre of FGC UES as a videoconference.
The meeting was attended by Chairman of the Management Board of FGC UES Oleg Budargin, First Deputy Chairman of FGC UES Roman Berdnikov, Executive Director of IDGC Holding Andrey Murov, Deputy Executive Director — Technical Director of IDGC Holding Sergey Arkhipov, as well as heads of all electric grid companies of the country.
The meeting noted that all enterprises of the electric grid have prepared for winter peak loads and received their certificates of readiness.
It was emphasized that all measures aimed at improving the emergency and operation readiness for the period of low temperatures were performed on schedule and in full, and were being performed in constant interaction with FGC UES and IDGC Holding. Repair and investment programs were implemented in a timely manner, emergency reserves were formed and optimally placed, emergency response trainings were conducted to practice skills in extreme conditions, as well as interaction with local administrations and departments of EMERCOM. These activities will provide a high level of reliability of power supply of the population this winter. During the first month aft the receipt of the certificates of readiness the number of outages for consumers at power facilities of FGC UES decreased by one third compared to the same period last year.
Concluding the meeting, Deputy Minister of Energy Mikhail Kurbatov said that the main priorities in the work of the grid of the country and the main performance indicators of the energy sector are reliable and uninterrupted power supply to consumers. He also pointed to the personal responsibility of the managers in the companies for the reliable operation of transmission and distribution grids.
Head of Federal Grid Company, Oleg Budargin stressed that the heating season is the most important test for the power industry, and added that managers of energy companies will be held highly responsible for ensuring trouble-free operation conditions in the winter of 2012 −2013.