15 November 2012
IDGC of Centre — Kurskenergo division held a visiting meeting of the board of the Upper Don Office of RTN with the agenda: "Operation through the autumn-winter season 2012 — 2013".
The meeting was attended by Head of the Upper Don Office of Rostechnadzor Vladimir Dernovoy, Deputy General Director for Technical Issues — Chief Engineer of IDGC of Centre Sergey Shumakher, Deputy General Director of IDGC of Centre — Kurskenergo division director Alexander Pilyugin, Deputy Chairman of Utilities and Energy Committee of the Kursk region Nikolay Tretyakov, managers and specialists of territorial administrations of technological and ecological supervision in the Kursk, Belgorod, Lipetsk and Tambov regions. The meeting's participants discussed the preparation status to operate during the autumn-winter period (AWP) of enterprises of the regions that are supervised by Rostechnadzor.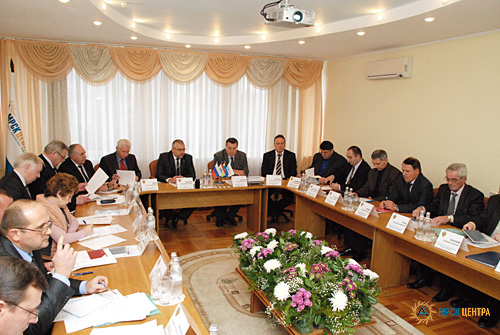 Sergey Shumakher told the gathered about the readiness of IDGC of Centre for the autumn-winter period. He drew particular attention to the fact that this year the company received its certificate of readiness a month earlier than in previous years, having completed the planned activities without exception. Emergency supplies are 100 percent restocked, both centrally and in the branches, 90 mobile crews are ready to work around the clock, the fleet of special vehicles has been greatly enhanced, upgraded and modernized.
The branches held joint exercises of power engineers of IDGC of Centre, MES companies of FGC UES, regional offices of EMERCOM and representatives of regional administrations. In that case, the actions were worked out on all sides, with the possible occurrence of disturbances at power facilities.
In Kurskenergo and other branches of the company operating in the area of ​​control of the Upper Don Office of Rostechnadzor, commissions composed of experts of branches and offices of RTN made helicopter circles over 35-110 kV overhead lines in order to obtain information about the state of ROWs along power lines after their clearing and expansion .
Vladimir Dernovoy thanked IDGC of Centre for the quality preparation to operate through the AWP, the implementation of measures aimed at improving efficiency in the event of emergency situations, creating a good environment for the work of the visiting board of the Upper Don Office of RTN.
As part of the meeting, the participants visited the modernized Grid Control Centre of Kurskenergo, the Museum of Energy of the Kursk region, where they learned the rich history of the Kursk power system.