9 November 2012
In Voronezh, a meeting of General Director of IDGC of Centre Dmitry Gudzhoyan with Governor of the Voronezh region Alexey Gordeev took place. The meeting was also attended by Deputy General Director of IDGC of Centre for Economics and Finance Konstantin Orlov, Deputy General Director of IDGC of Centre — Voronezhenergo division director Ivan Kleymenov.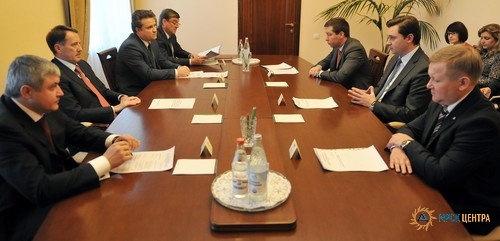 They discussed issues related to the integration of the Voronezh city network in IDGC of Centre, which will increase power supply reliability of the regional centre. They also spoke about the region's preparation and operation through the autumn-winter period, connection to power grids and the prospects for further development of the electric grid of the Voronezh region. In particular, it was observed that Voronezh branch of IDGC was one of the first to receive the certificate confirming the readiness of the electric distribution grid for operation in winter, which assures the high level of preparation of specialists of Voronezhenergo to work in the most difficult conditions.
Alexey Gordeev and Dmitry Gudzhoyan also discussed the problems arising in the course of interaction the energy company and the region. In particular, settlements between energy supply companies and retail companies have not been agreed upon, which entails a shortfall of income by grid companies for maintenance and development of power grids. The head of the region promised to investigate the situation.
The Governor has also set a target to speed up the process of preparing an auction for the sale of property of the urban electric grid of Voronezh, which is being done at the moment.
Please, be reminded that April 6, 2011 in Voronezh, an agreement was signed between IDGC of Centre and the Government of the region on the implementation of measures to ensure reliable power supply and creation of the conditions for connection to electric grids of consumers in the region.