9 November 2012
In the course of the meeting the issues of development of the region's electric grid and readiness to ensure reliable power supply in winter were being discussed.
The event was also attended by heads of FGC UES, MES of Centre, and representatives of the Government of the Tver region.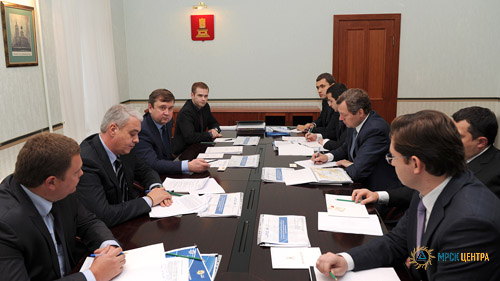 According to Andrey Shevelev the state of the electric grid has strategic importance for the region. "The regional government is working to increase the investment attractiveness of the region. However, one of the main problems with the implementation of new projects is the lack of generation capacity,"- underlined the Governor.
In addition, the head of the region raised the issue of bringing in good condition and ensure the smooth operation of the distribution networks of the western zone, where there is the greatest deterioration, wear and tear.
Oleg Budargin, in his turn, said that Federal Grid Company in the near future to consider the development program for the Upper Volga electric grid taking into account the plan for the economic development of the Tver region. "The advanced grid infrastructure is one of our top priorities. And for us it is important, when regional authorities also pay due attention to this issue and take part in joint work," — said the head of Federal Grid Company.
In addition, during the meeting it was agreed to establish in IDGC of Centre — Tverenergo division Directorate for grid operation, which will be responsible for and control over power supply of the western zone of the region.
The parties also agreed on the restoration with the participation of FGC UES in 2012-2013 of sections of roads in five municipalities with a length of 27 km, damaged during the construction of transmission lines. This project is significant for the region, as there are regular bus routes, including transporting schoolchildren, on these roads.