8 November 2012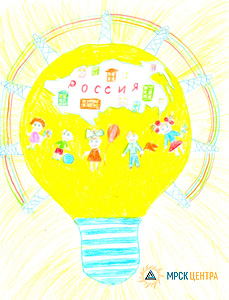 IDGC of Centre summed up the qualifying round of the contest of children's drawings "Unified Grid — one country", organized by FGC UES, the main objectives of which are: the formation of a unified corporate culture of electric grid workers; ensuring the continuity of generations; raising children's interest in the power engineering profession . The jury evaluated the presented drawings to conform to the contest theme, originality of ideas and content, technology, and quality of execution, as well as the artistic style of drawing.
The winner in the age group 4-6 years old was Daria Varlamova, the daughter of the chief specialist of the Corporate Governance and Shareholder Relations Department Andrey Varlamov, second place — Kira Merkulova, the daughter of the chief of department of social relations of Yarenergo Nikolay Merkulov, the third — Alina Timofeeva, whose father, Yury Timofeev, works as a foreman for operating distribution networks of Pichaevsky Distribution Zone in Tambovenergo.
Among the children aged 7-10 years old the first place was taken by Elizaveta Burtseva, the daughter of the engineer of marketing and customer relationship department of Gubkinsky Distribution Zone of Belgorodenergo Nelly Burtseva, the second place was shared by Xenia and Katerina, the daughters of the chief of the electricity metering department of Electricity Metering Office of Lipetskenergo Valery Andreyev, and Vladislav Danilov — the son of the deputy chief of Mtsensky Distribution Zone for sale of services of Orelenergo Andrey Danilov. "Bronze" went to Alexey Zapolsky, the son of the specialist of HR department of Kurskenergo Natalia Zapolskaya, and Konstantin Antipov, the son of the chief of the Legal Office of Smolenskenergo Maxim Antipov.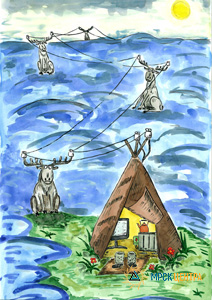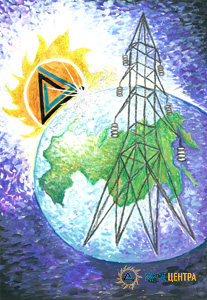 In the oldest age category of 11-14 years old the winner was Stanislav Pavlov, the son of the electrician for operating distribution networks of the 5th grade of crew number 2 for operating RP of Cheremisinovsky Distribution Zone of Kurskenergo Andrey Pavlov, the second place was taken by Maria Polyakova, the daughter of the deputy chief engineer for operational and technological control of Bryanskenergo Sergey Polyakov, third — Oleg Yakovenko, whose mother, Olga Bobieva works at Logistics and Procurement Office of Belgorodenergo.
From November 15 to December 1, 2012 there will be the final stage of the contest. Results of the contest and drawings, recognized as the best will be published in the December issue of the corporate newspaper "Unified Grid". Following the results of the contest the Department of social programs of FGC UES will organize an exhibition of works of winners and participants of the contest, as well as the prize-giving ceremony for winners and contestants.