31 October 2012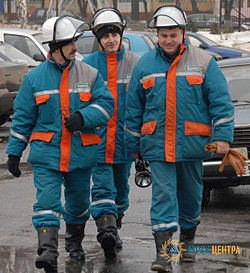 In the night from 30 to 31 October in the whole territory of the Central region was hit with powerful precipitation in the form of rain and sleet. The weather conditions were complicated by a decrease in temperature, wind, and freezing rain. This caused icing on wires of power lines.
Thanks to the timely measures taken by IDGC of Centre, no mass failures of power equipment were recorded. The company operated through the first hit of freezing rain successfully.
All branches from 4:00 p.m. on October 30 were put on high alert. Operational situation was under control around the clock by the headquarters of IDGC of Centre.
Staff at Distribution Zones of the branches was set to the increased operation mode: 485 crews totalling 1,427 people and 433 special vehicles are on duty around the clock, including 90 mobile restoration and emergency crews totalling 519 people. Resources of contractors consisting of 74 crews of 468 people are also on high alert, which can be quickly involved in a case of massive outages.
154 crews of 816 people are currently employed in additional rounds of power lines.
Each Distribution Zone of IDGC of Centre has available standby power sources. 854 generator sets will provide backup electricity to consumers at the time of restoration and emergency operations.
Weather stations of IDGC of Centre are operating in a more frequent mode, signaling different changes of weather conditions and allow timely to prepare for emergencies at power facilities.
Due to the unfavourable weather forecast for October 31 and November 1, with a repetition of "freezing rain" the high alert mode in IDGC of Centre has been extended.