26 October 2012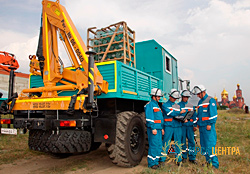 In the centre of the European part of Russia some significant deterioration of weather is expected. According to forecasters, from west to east a deep cyclone is moving that has brought rain and sleet to the entire territory of the Central District. By the evening of October 26 heavy rain, wet snow is expected, the wind will increase to 20 m/s, sometimes up to 24 m/s.
To ensure the reliability of power supply IDGC of Centre has been put on high alert. Staff of responsible managers and specialists of IDGC of Centre are on the around the clock duty. Around the clock emergency repair crews are organized in all Distribution Zones of the branch. The availability for operation and staffing of standby power sources was checked.
The Contact Centre will also operate in the high alert mode: the number of operators on duty has been increased, including "in-home operators" that around the clock can receive calls on the single Direct Power Hot Line at 8-800-50-50-115.