19 October 2012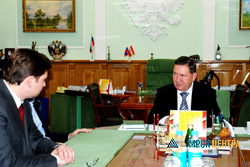 A working meeting of General Director of IDGC of Centre Dmitry Gudzhoyan with Governor of the Kursk region Alexander Mikhailov took place in Kursk.
The parties discussed issues of the regional preparation for the autumn-winter period, connection to electric networks, and prospects for further development of the electric grid.
It was noted that in early October IDGC of Centre — Kurskenergo division was presented the main document — the Certificate of readiness, confirming the readiness of the electric distribution grid complex for the autumn-winter operation period. This had been preceded by serious hard work.
Since the beginning of 2012, Kursk branch has implemented grid connection of more than 1,000 facilities. The head of the Kursk region highlighted and highly appreciated the support of IDGC of Centre in large scale agricultural projects in the region. The grid company performs a social function, providing easy and affordable access to the infrastructure for these investment projects.
During the working meeting, the leaders spoke of relationships with power retail companies. The debt problem also touched the Kursk region: Total gross debt of retail companies to the grid companies has reached 600 million rubles. This is half of the annual investment program of IDGC of Centre — Kurskenergo division. At the meeting it was agreed that by the end of this year the debt of the retail companies would be maximally reduced, reduced to zero, thus to allow Kurskenergo smoothly and according to the plan to operate through the winter.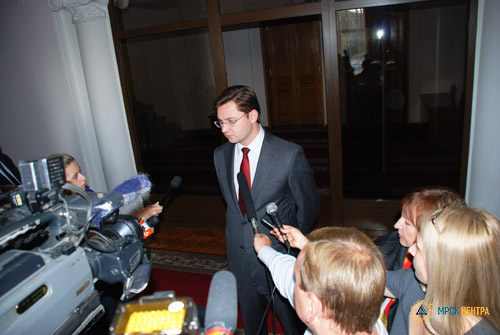 After meeting with Governor of the Kursk region Dmitry Gudzhoyan held a meeting at IDGC of Centre — Kurskenergo division with the participation of Deputy General Director of IDGC of Centre for Investment Dmitry Andryushin, branch director Alexander Pilyugin, and heads of Kurskenergo for directions.
The meeting examined the activities of the branch in the current year, the issues of reliable power supply, requiring precise interaction of different structures in order to ensure rapid incident response in a period of low temperatures.