19 October 2012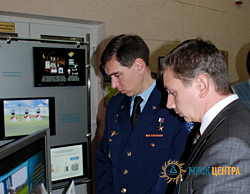 Specialists of IDGC of Centre took part in the All-Russian Exhibition of Science Festival in Southwestern State University (city of Kursk), on the results of which were awarded Certificate of merit of the organizing committee for the exhibition "Energy to each house".
Science Festival for the second year in a row is held in accordance with the instruction of the President of the Russian Federation with the support of the Ministry of Education and Science. The national-scale event is centered on promotion of science and innovation in various fields of human activity, as well as vocational guidance of students.
For two days, on the site of Southwestern State University several events were being held simultaneously. Anyone wishing could attend the lectures of scientists, meeting with scientists, presentations of innovative achievements of scientific organizations, enterprises and educational institutions of the Kursk region.
In the pavilion of industrial enterprises power engineers of IDGC of Centre presented the activities of the company in the Kursk region: told visitors about energy efficiency for residential customers, the advantages of automated metering of electricity, as well as on energy efficiency in industry and utilities. Guests of the company's booth were able to get the full information about new technologies and modern instruments, equipment and materials used in IDGC of Centre for the construction and reconstruction of power facilities.
There were also the devices presented that allowed to quickly and accurately diagnose power equipment. The use of thermal imaging, ultrasonic thickness meter and ground-resistance tester enable professionals of IDGC of Centre to prevent technological disturbances, increasing the reliability and stability of power supply. Their operation principle was clearly demonstrated to all wishing.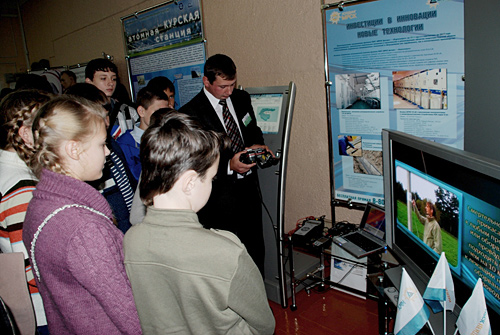 For two days, the exposition of IDGC of Centre was attended by over a thousand people. The presented innovative solutions and developments were also appreciated by a special guest of the Festival cosmonaut Sergey Volkov, who visited the company's booth.
In the days of the Festival experts of Kurskenergo also conducted several master classes on electrical safety pupils and students from the educational institutions of the region, who visited the company's booth.
The design of the exhibition area, large presentation, and accessible provision of information at the booth of IDGC of Centre was highly appreciated by the organizing committee of the Kursk Regional Science Festival site. Presenting the award for the exhibition "Energy to each house", Vice President for Academic Work of Southwestern State University Valery Polischuk thanked the experts for active and proactive role in the popularization of science and expressed his hope for continued cooperation in the organization of such events in the coming years.