14 September 2012
In the name of General Director of IDGC of Centre Dmitry Gudzhoyan a letter was received from the teaching staff of school № 25 of Kursk. The administration and teachers of the educational institution thank the management of IDGC of Centre for systematic preventive work on electrical safety.
"Caring for the health and safety of children has become a national task, bringing together the education system in the region and a large energy company in Russia. Specialists of Kurskenergo along with the main tasks carry out important work to protect the life and health of the younger generation of Russians", — stated the letter.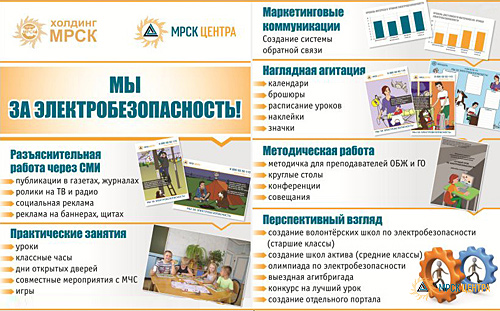 The company's professionals who know what a serious threat to humans may be a violation of basic electrical safety requirements, — frequent visitors to the school and other educational institutions of the Kursk region. Here they hold meetings with children, meaningful conversations, tell about the power engineering profession, how to act in cases where a person has been exposed to electric current, and invite schoolchildren to open door days.
As part of the system of preventive work in the first half of this year more than 200 Kursk schoolchildren visited the facilities of Kurskenergo, where they learned the rules of behaviour in the vicinity of power facilities. From the beginning of the year experts of Kurskenergo had preventive talks for more than 600 children aged from 7 to 17 years old.
Consolidation of efforts of interested parties — Chief Directorate of the Interior Ministry of Russia in the Kursk region, the Upper Don Office of Rostechnadzor, Utilities and Energy Committee, Board of Education and Science of the Kursk region, and the media — in order to prevent injuries at electric grid facilities was the main topic of a recent roundtable held in Kurskenergo and resulted in a number of important decisions.
For example, to begin preventive work with the kindergarten, to use unified safety days to acquaint the people with the basic rules of electrical safety, which are held through the MOI of Russia in the Kursk region, and citizens' assemblies, which are regularly carried out by neighbourhood police inspectors in settlements.