12 September 2012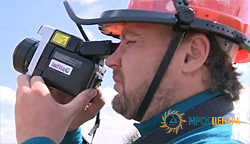 The video of IDGC of Centre won the contest of the All-Russian competitions of professional skills of crews of services of insulation and surge protection of electrical equipment in the distribution grid complex of IDGC Holding. The clip took first place with 46 points.
12 points — the maximum number — the video of IDGC of Centre received for "Innovative solutions proposed in the operation of electric grids" and "Artistic design".
Please, be reminded that last year the video of IDGC of Centre also won a landslide victory in the nomination of the competitions.
One of the main tasks of the art contest — to show the best and share experiences. During the evaluation of teams' clips the panel of judges took into account the reflection in the work of specialists of diagnostics services of innovations, the use of modern equipment and materials, devices, instruments and tooling. The completeness of the topic, artistic design and conformity with the stated parameters was also taken into account.
To see and evaluate all the videos of the participants you may on the site of the competitions at http://www.hmrsk-profi2012.ru/пресс_центр/видеосюжеты. For participants of the competitions there is continuous broadcasting on television plasma screens in the pavilion, located right at the 110 kV substation "Jubilee".