3 August 2012
In accordance with the Decree of the President of the Russian Federation for his merits in the field of energy and many years of hard work Electrician for operating distribution networks of Dankovskiy DEN of IDGC of Centre — Lipetskenergo division Alexander Volkov was awarded the honorary title "Honoured Power Engineer of the Russian Federation". His awarding was held during the closing ceremony of the professional skills competitions of diagnostics crews of IDGC of Centre.
Alexander Volkov remains committed to power industry for more than 32 years. For this time Alexander has made a great contribution to the development of the electricity industry. He was directly involved in the construction and modernization of distribution networks in settlements of Dankovskiy district of the Lipetsk region. Today, the service area of ​​ Voskresenovsky site of Dankovskiy District of Electrical Networks, where Alexander has been working since 1979, includes 484 km of 0.4 kV-6/10 kV Overhead Lines, 182 Transformer Substations of 10/0.4 kV, 13 Substations of 110/35/10 kV.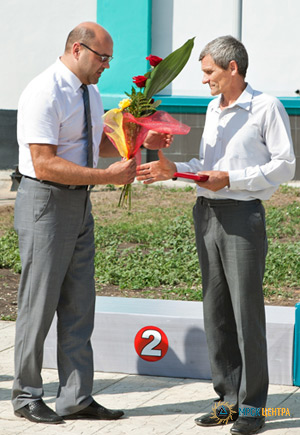 Thanks to the experience gained, good attitude to work, diligence and perseverance, he became a true professional with an excellent command of the theoretical and practical knowledge of repair and maintenance of distribution networks. Not surprisingly, Alexander and his operational and maintenance crew's personnel are trusted to perform the most complex work, which they always successfully cope with. His crew has been highly appreciated several times for the repair of power equipment, implementation of operational switching and response to adverse weather conditions.
Alexander Volkov's awards prove his labour successes. For example, in 2001 he received his Certificate of Merit from the Ministry of Energy of Russia, in 2004 he was awarded the title "Veteran of Lipetskenergo", and in 2009 Alexander among the best employees was put to the Board of Honour of IDGC of Centre — Lipetskenergo division.
The honorary title "Honoured Power Engineer of the Russian Federation" was approved by the Presidential Decree and is assigned to highly professional specialists of companies for achievements in energy development, creating, designing and developing new types of energy equipment and systems, implementing advanced technologies of construction, installation and operation of energy facilities, for achievements in scientific research, energy conservation, production and personnel training.