1 August 2012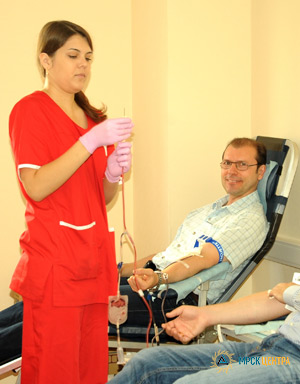 This is the first donor event at IDGC of Centre. 32 employees of the company responded to the call to donate blood. As a result of the action about 15 litres of blood was received, which will be directed to the Federal Center for Pediatric Oncology, Hematology and Immunology.
Those employees, who for whatever reason were not able to donate blood, made personal donations to through the fund "Give Life" to children who suffer from blood cancer. In total over 10 thousand rubles were collected. 30 employees IDGC of Centre assisted and brought needed for children's personal hygiene items (diapers, wipes, etc.).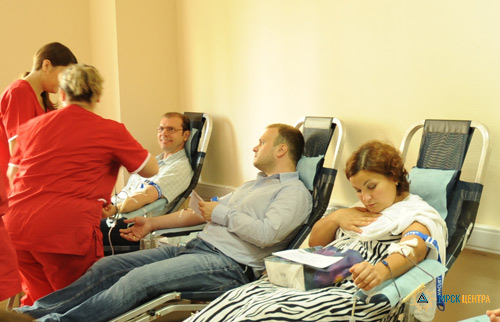 "IDGC of Centre gladly responded to the proposal of the charity fund 'Give Life' to hold a donor campaign in the office of the company — stressed General Director of IDGC of Centre Dmitry Gudzhoyan. — This action has helped employees feel part of one big good deed".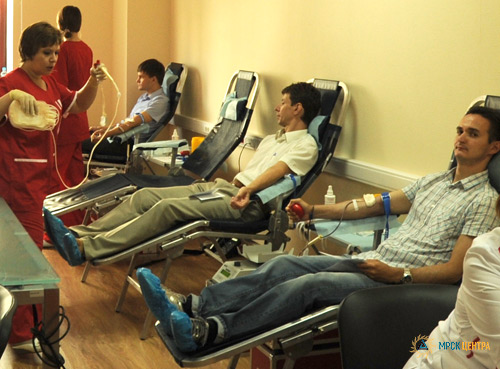 All the participants of the action expressed their sincere desire to make visiting donor campaigns a tradition, because everyone who had given the blood was confident that he would be able at least a little bit to help children suffering from severe cancer and hematological diseases. For children with blood diseases and blood cancer donors are the the only hope. After chemotherapy their blood cells are not produced, it takes time to restore them. That's donors who help those children survive who are being treated for cancer. Similar events will take place in IDGC of Centre regularly, at least 4 times a year.