30 July 2012
General Director of IDGC of Centre Dmitry Gudzhoyan in the delegation of FGC UES headed by Chairman of the Management Board Oleg Budargin visited the manufacturing cluster "Siemens" in Voronezh. The meeting was also attended by Vice Governor of the Voronezh region Alexander Gusev, Chief Executive Officer of the Department "Energy Transmission" of Siemens AG Karlheinz Springer, President of Siemens in Russia and Central Asia, Vice President of Siemens AG Dietrich Möller.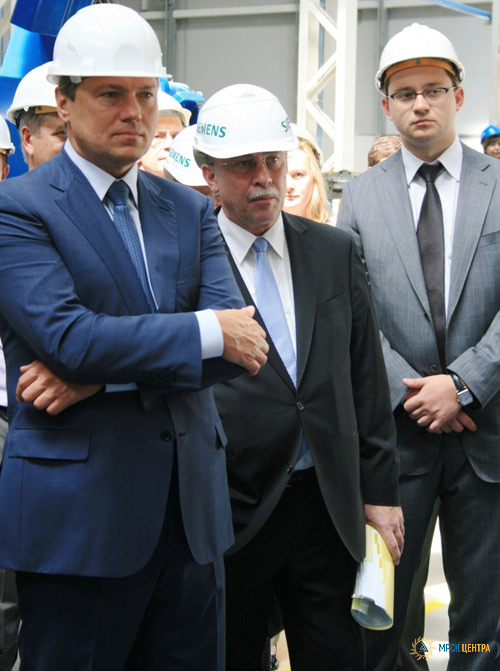 The managers of the companies visited production sites of new plants of Siemens for the production of high-power switching and power transformer equipment, familiarized themselves with the work of the test set and the course of commissioning the production of SF6 switchgear and control gear (GIS).
The meeting took place within the execution of three Agreements of Siemens AG with FGC UES, IDGC Holding and IDGC of Centre.
The Memorandum of Understanding between FGC UES and concern Siemens, aimed at developing long term relationships and delivery of electrical equipment of Siemens, produced in Russia, was signed in February 2012.
"Placement of production in our country not only reduces the cost of the equipment that allows to hold back the growth of rates, but also has a positive effect on the situation in the Russian economy as a whole. We choose to partner only with trustworthy manufacturers, one of which is the company Siemens. After all, our main task — to ensure the electric grid reliability. I am convinced that together we can do it", — stressed Chairman of the Management Board of FGC UES Oleg Budargin.
In 2011 IDGC of Centre also signed a similar cooperation agreement with Siemens. As part of its implementation the company performed in the spring of 2012 a grid connection of the plant for the production of transformers of LLC "Siemens Transformers" with its capacity over 6 MW.
The business visit and meeting with the management of Siemens AG develops the cooperation of all parties in the comprehensive modernization of Russia's electric grid to improve reliability and efficiency of electricity supply to consumers.