24 April 2012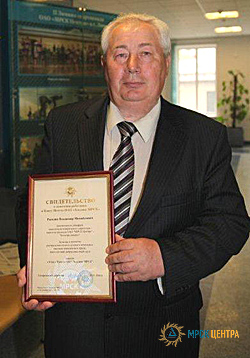 By the Order of IDGC Holding Honored Power Engineer of the Russian Federation Vladimir Ryndin was listed in the Book of Honour of IDGC Holding for his contribution to the development of the electric distribution grid complex, high performance at work and many years of hard work.
Vladimir Ryndin came to work in the energy sector in 1969 after graduating from the Kharkov Electromechanical College. He initially worked as an electrician in the Eastern Electric Networks of Regional Energy Administration "Belgorodenergo", but in 1975 he was appointed chief of the repair shop, then a senior engineer on reliability, and later — head of production department "Eastern Electrical Networks". On December 2008, Vladimir was appointed Director for Districts of Electrical Networks Management of IDGC of Centre — Belgorodenergo, and in January 2011 became Head of Staff of the branch's Director.
"I am very grateful to the Company for such a high evaluation of my work. This award is an honour and means a lot to me, — stressed Vladimir Ryndin. — I am happy that I could be useful the energy industry and all my countrymen. I hope my experience will be helpful to my colleagues in Belgorodenergo".
For professionalism and great advances in the production activity Vladimir Ryndin was awarded many honourable distinctions: letters of gratitude of the Ministry of Energy of Russia, diplomas of RAO "UES of Russia" and the Ministry of Industry of the Russian Federation, badges of honour "85 years of the Plan of Electrification" and "Veteran of Belgorodenergo". In 2008, for his outstanding services and personal contribution to improving the efficiency of operation he was distinguished with a gold medal of IDGC of Centre. In 2011, Vladimir was awarded the honorary title "Honored Power Engineer of the Russian Federation".