17 April 2012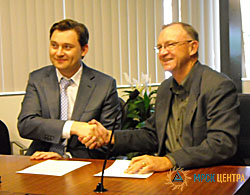 The most important strategic goal of IDGC of Centre is to reach the level of technological development of highly industrialized countries and it is not possible without upgrading the existing electric grid and creating a new infrastructure based on an innovative large-scale technological renovation. One of the innovations in 2011 was the implementation of the program "Smart Grid — Smart City". The infrastructure of such a city is constructed entirely on the basis of new technologies that enable efficient use of energy sources and minimize the impact on the environment. IDGC of Centre — Belgorodenergo division was selected as a pilot site for the project.
April 12, 2012 in San Diego (State of California) a working meeting was held between IDGC of Centre and San Diego Gas & Electric Company (SDG&E). This meeting is the result of fruitful cooperation in the framework of the Quadripartite Memorandum of Understanding signed last year between IDGC of Centre, the Government of the Belgorod region, SDG&E and Mayor's Office of San Diego. The document provides for the implementation of partnership programs in energy efficiency and "Smart Grid" technology development.
The delegation of IDGC of Centre headed by General Director Dmitry Gudzhoyan identified specific dates of the program implementation and the most interesting aspects for both parties. Thus, the participants of the meeting in San Diego selected priority areas of cooperation: distribution grid automation, best practices in business processes, video surveillance and security. The delegation of IDGC of Centre expressed interest in cooperation in the following areas: innovation management, energy efficiency projects, renewable energy and distributed generation, construction of charging stations for electric vehicles.