6 April 2012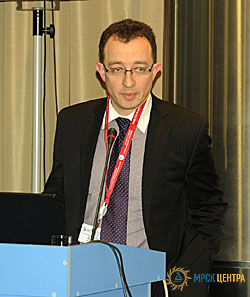 The X Moscow International Energy Forum "Fuel and Energy Complex of Russia in XXI century" opened in the Central Exhibition Hall "Manege" in Moscow. UN has declared 2012 the International Year of sustainable energy for all, in connection with this the Forum brought together so many prominent representatives of expert and public community, business and government to promote the stable development of Russian and world energy industry, to search for strategic compromises and new approaches to solving global problems of today.
IDGC of Centre presented their projects on energy conservation and efficiency at the Forum.
The Company has developed a program of energy conservation and energy efficiency. During 2011 the reduction in energy losses from the activities under the program totaled 206 million kWh against the planned 130 million kWh.
Mark Slonimsky in his report also described the experience of implementing energy-saving and energy-efficient technologies that allow to improve the reliability and security of grids, and for ordinary consumers — to save on electricity costs and receive high quality services in the field of electricity supply. So in all regions where IDGC of Centre operates "smart" electricity meters are installed, featuring high-class accuracy, the possibility of separate metering by hour and time of day. Power engineers replace lighting fixtures with inefficient mercury lamps with sodium, induction or LED lamps. As a result, at the highest possible level of lighting the energy consumption has been reduced by half.
Energy efficiency of grids is based on the application of advanced monitoring, communication, analysis, and dynamic control. For automation of overhead lines IDGC of Centre installs reclosers, to stabilize and increase the transmission capacity of grids — voltage boosting transformers.
The presenter paid particular attention to the mechanism of execution of Federal Law of November 23, 2009 # 261 "On energy conservation and energy efficiency improvement", according to which IDGC of Centre has developed and approved the Program on performance of mandatory energy audit. Within its framework, 2252 commercial facilities will be audited, then the procedure for obtaining an energy certificate will be performed, and the making of measures to improve energy efficiency on the basis of the data obtained.
In the near future the Company will create its "Customer portal", where customers round the clock will be able to receive information on electricity consumption, possibilities of its saving and rates, as well as the peak load of electric grids.