29 March 2012
Russian Energy Minister Sergey Shmatko during a working visit to Voronezh visited the substation "Central" of IDGC of Centre — Voronezhenergo division. He praised the level and quality of the used equipment at the substation.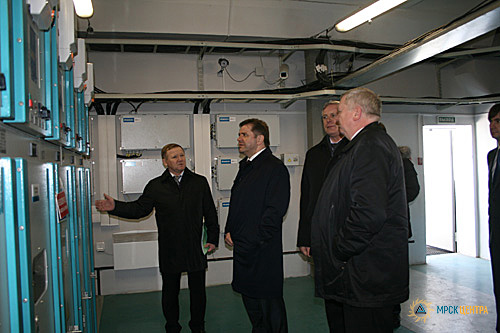 Currently, the substation is one of the most advanced electric grid facilities in the service area of IDGC of Centre. For the first time in the Company the project was implemented using GIS bays with lines 110 kV cable, the length of which was over 1,8 km. For laying the cable with XLPE insulation was used. It was laid using the method of horizontal directional drilling at a depth of 5-7 meters below the city communications.
The substation "Central" supplies power to socially significant facilities of the central part of Voronezh, buildings of the Voronezh Region government, bodies of executive power of both federal and regional subordination, Administration of Voronezh, shopping centers, apartment houses, etc.
Within the visit to the substation "Central" there was a discussion of issues related to upgrading the power grid facilities in the region, as well as the implementation of the investment program of Voronezhenergo.
Sergey Shmatko also visited the newly opened pant "Siemens Transformers" LLC, the technological connection of which was performed by IDGC of Centre. All the work was performed under the trilateral agreement on cooperation between Governor of the Voronezh region Alexey Gordeev, General Director of IDGC of Centre Dmitry Gudzhoyan and President of Siemens LLC in Russia and Central Asia, Vice-President of the concern Siemens AG Dietrich Moeller.