21 February 2012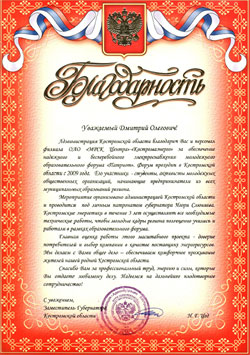 A letter of gratitude was received in the name of General Director of IDGC of Centre Dmitry Gudzhoyan from Deputy Governor of the Kostroma Region Nikolay Tsed for ensuring a reliable and uninterrupted power supply to the site of the Youth Education Forum "The Patriot", organized by the Administration of the Kostroma region under the personal patronage of Governor Igor Slyunyaev.
Forum "The Patriot" has been taking place in the Kostroma region since 2009. Its participants are students, activists of youth public organizations, aspiring entrepreneurs from all municipalities in the region.
To ensure an uninterrupted supply of energy of the Forum venue Kostroma branch of IDGC of Centre performed a new connection to the grid with a capacity of 250 KVA in 2009-2010. To do this, taps of the 10 kV conductor, reinforced concrete poles and a 0.4 kV power lines were constructed and one PTS-10/0.4 kV was installed. All this made it possible to organize the camp's premises not only street lighting, but also the operation of different sources of power needed during public events.
"The main evaluation of this major project is the consumer confidence and the choice of the Company as a supplier of energy resources. We make common business with you — provide comfort living to residents of our native Kostroma region. Thank you for your professional work, energy and efforts that you give to your labour of love. We hope for further fruitful cooperation!"- says the letter of thanks.