1 February 2012
An All-Russia meeting on the development of animal husbandry was held in the Administration of the Tambov region, chaired by Head of the Government Vladimir Putin. The event was attended by First Deputy Prime Minister V. Zubkov, Regional Development Minister V. Basargin, Minister of Agriculture E. Skrynnik, Minister of Sport, Tourism and Youth Policy V. Mutko, representatives of federal agencies and departments, heads of a number of regions, as well as business leaders, unions and associations of agro-industry. Among the participants of the meeting — Deputy Minister of Energy Andrey Shishkin, Director General of IDGC Holding Nikolay Shvets.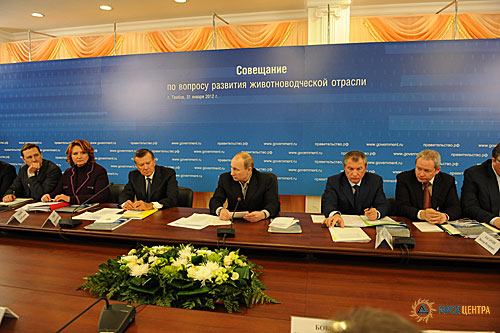 Russian subjects are in need of a powerful energy infrastructure to meet the growing needs of regional economies, including in the field of animal husbandry, which is a key segment of the agro-industrial complex. Vladimir Putin stressed that in recent years several large poultry farms have been commissioned in the country, including Inzhavinskaya, which opened in November last year in the Tambov region.
For the construction and operation of the new poultry complex specialists of IDGC of Centre in the shortest possible time created the necessary electricity distribution infrastructure. Opening the Inzhavinskaya poultry farm ensured the creation of more than two thousand jobs, which is a considerable contribution to strengthening the social development of the region.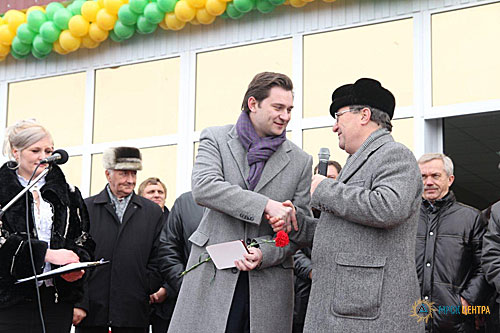 Thanks to the agreements reached in 2011 between IDGC Holding, IDGC of Centre and the Government of the Tambov region specialists of IDGC of Centre -Tambovenergo division reconstructed the 110/35/10 kV substation «Inzhavinskaya» and 35/10 kV «Nikitinskaya», constructed the new 110/10 kV substation «PTF», 10, 35 and 110 kV overhead and cable lines, and also completed the installation of 29 package transformer substations 10/0,4 kV with remote control.
Directly in the area of Inzhavinsky district the installed capacity of the connected facilities of the poultry complex is about 20 MW. The volume of investments for electricity supply of the Inzhavinskaya poultry farm — about half a billion rubles.
Governor of the Tambov region Oleg Betin praised the created grid infrastructure and awarded General Director of IDGC of Centre Dmitry Gudzhoyan the badge «For labor achievements».
According to Nikolay Shvets, IDGC Holding is interested in increasing the investment attractiveness of the region, particularly in the development of the agricultural sector of the Tambov region. IDGC of Centre is ready to continue to support promising investment projects, performing technological connection of new facilities to their networks and creating favorable conditions for economic development in the region.