26 January 2012
IDGC Holding completed the selection of young professionals to create the personnel reserve "Young support of IDGC Holding". Six employees of IDGC of Centre were included in the reserve of IDGC Holding. They are: Leading engineer in productive assets management department of IDGC of Centre Artyom Sadkov, Head of customer interaction Office of Yarenergo Elena Sosnina, Head of economic Office of Voronezhenergo Dmitry Dubinin, Deputy Chief Engineer for operational and technological management — chief of the Grid Control Centre of Tverenergo Vladislav Ostrik, Deputy Director for development and sale of services of Lipetskenergo Alexander Kosolapov, Leading engineer in electricity metering department of electric energy metering Office of Belgorodenergo Vladislav Stotsky.
The selection for the youth reserve of IDGC Holding was held in the format of a business game. "Candidates were divided into groups, each worked out topical issues relating to the functioning of the electric grid, which need to be addressed. An expert was appointed to direct the work of the teams. The groups of candidates were given assignments and necessary materials. At the end of 'brainstorming' each team presented their solution in the form of a presentation to the expert jury that determined the winners,"- said Artyom Sadkov.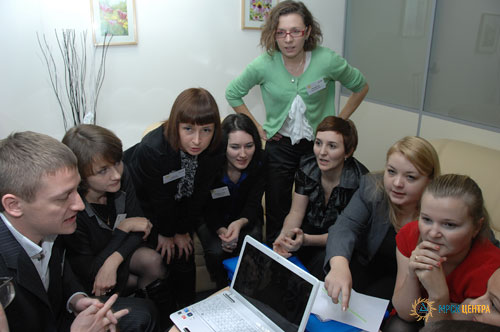 In the course of the business game the participants demonstrated their teamwork, skills and creativity in solving the most urgent tasks power engineers face today.
The work of the candidates from IDGC of Centre was praised by Deputy General Director of IDGC Holding — Head of Staff of IDGC Holding Alexander Popov: "I want to mark the high level of the candidates in the reserve recommended by IDGC of Centre, and the coordinating work of personnel management and organizational design Division of IDGC of Centre in the implementation of the project".
All the specialists included in the reserve of IDGC Holding will work in accordance with their individual development plan, which will enable each of them to implement their projects into action.
"IDGC of Centre is constantly concerned about the development of their employees' potential. Of course, the work with young people takes a special place in this case. The Company has created the necessary conditions for the development of young professionals who now and in the future will work to ensure quality and reliable electricity supply. We are proud of the fact that six young employees have been included in the personnel reserve of IDGC Holding, and we are confident that the experience gathered they can be successfully use in IDGC of Centre", — noted Human Resources Director — Head of HR management and organizational design Department of IDGC of Centre Alexander Lyaskin.