19 January 2012
One of the priorities of IDGC of Centre is work with customers. In its effort to improve electricity customer satisfaction, the Company opens new Customer Service Centres. Thus, IDGC of Centre — Tverenergo division has started operating its sixth Customer Service Center (CSC).
The inhabitants of the town of Rzhev of the Tver region, where the Centre was opened, the opportunity appeared to apply for a technological connection, increase in power and voltage, replacement and sealing meters. Experts of CSC accept applications for maintenance and repair of private package transformer substations and overhead power lines, provide advice on the collection of documents for submission of applications by natural and legal persons.
After the ceremonial opening specialists of the new CSC received the first customer. It turned out to be Valentina Synkova, who applied for replacement of a meter. The honorable customer was handed a gift certificate. The subject of the application was also taken into account: Valentina Synkova received a meter as her gift, accompanied by a free warranty service within a year.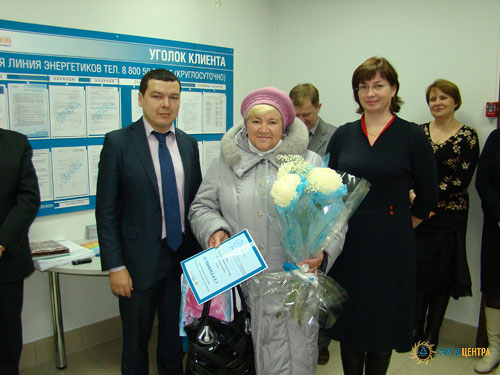 «Today, receiving electricity services, the consumer selects a good Center with a high level of service. With the opening of the CSC customers will be able in a single place to get answers to questions about electricity, cut the procedure in solving their issues bypassing many authorities»- concluded Deputy Head of Rzhevsky district administration Igor Korolkov.
The previously created Customer Service Centres also continue their successful operation. The CSC of IDGC of Centre — Orelenergo division was five years old. Year after year, the activity of the Centre aims to improve customer service, ensuring the efficient development of the market for electricity supply services, increasing responsibility to customers.
Among the main activities of the Centre — reception and processing of customer requests, registration of documents for technological connection to electric networks of the Company, documents for value-added services, provision of consulting services in regards with the entire spectrum of power supply, including energy conservation. The technological connection services are especially popular among the inhabitants of the Orel region.
Need for the branch's services is steadily increasing: for five years 3500 applicants applied to the Customer Service Center. The work of the Center's specialists has repeatedly been noted for efficiency and quality service to consumers. More than 500 letters of thanks have been sent to power engineers from customers for expert assistance in preparation of documents for technological connection to electric networks of Orelenergo, as well as for careful attention to consumers.
«Activities aimed at informing customers about services provided by specialists of the Company, changes in the legislation of the Russian Federation are regularly conducted at the sites of Customer Service Centers and information provision about additional services is organized. Experts of the CSC constantly improve their approach to work with customers, take public awareness efforts, conduct various events, study needs of customers and their satisfaction with the Company's activities», — noted Head of Customer Relationship Management Office of IDGC of Centre Olga Lezhneva.