16 January 2012
IDGC of Centre — Belgorodenergo division was awarded a diploma of the III degree of the federal stage of the contest "Russian Organization of High Social Efficiency" in the nomination "For the development of human potential". The awarding ceremony was held in Moscow in the Russian Federation Government House. Overall 33 organizations from 18 regions of Russia were recognized winners of the federal stage of the contest.
The organizer of the contest — the Ministry of Health and Social Development of the Russian Federation with the participation of federal and regional executive authorities, nationwide employers' associations and trade unions.
The contest was held for the 11th time in 11 nominations, and consisted of two stages — regional and federal. Its goal is evaluation of Russian companies that have achieved the highest efficiency in solving social problems, as well as study and dissemination of their experience, the emergence of forms of social partnership in organizations.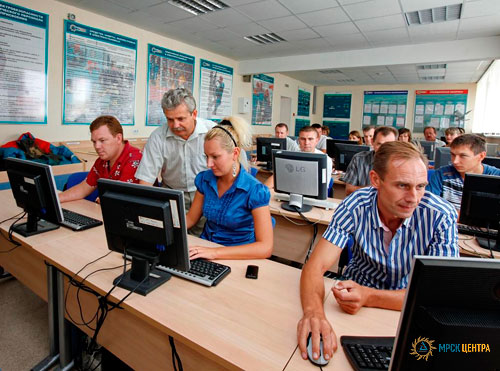 The human resources development system in IDGC of Centre, enhancing its efficiency is part of the Company's development strategy. In order to successfully implement the human resources and social policies the Board of Directors of IDGC of Center approved the Program of support and development of human resources. It provides a range of activities for the rejuvenation of staff, especially its workers and engineers, through the creation of favorable conditions, the implementation of numerous social programs: with particular attention being paid to work to attract and retain young professionals. The efficiency of this activity is confirmed by the statistics: the average age of employees in 2009 was 41, and in 2010 — less than 38.
The Company cooperates with leading Russian educational institutions: the Ivanovo State Power Engineering University, the Academy of standardization, metrology and certification, Training and Retraining Centers "Energetic" and Expertenergo", functioning on the basis of the Federal State Higher Professional Educational Institution "Moscow Power Engineering Institute", etc. Due to this effective cooperation conditions are created for the continuous development and training, involvement in the Company of highly skilled employees.
IDGC of Centre — Belgorodenergo division, which efficiently established its work in this direction, was awarded first at the regional stage of the contest "Russian Organization of High Social Efficiency", then — at the federal level. In 2011, 974 employees of Belgorodenergo had their training and skills development, this year over 600 people will be trained. In 2011, more than 60 graduates of leading universities and secondary specialized educational establishments were taken to work at Belgorodenergo.