28 December 2011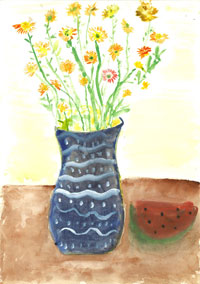 First place in the children's art contest dedicated to the Power Engineers' Day in the nomination «Free Topic» in the age group up to 8 years was taken by Ivan Bilyutin, son of Chief of operation and development of metering systems Section of IDGC Centre — Smolenskenergo division Sergey Bilyutin.
The children's drawing contest is organized and conducted annually among children of employees of subsidiaries and daughter joint-stock companies and business units of IDGC Holding and aims to develop children's artistic creativity and aesthetic education of children of power engineers, strengthen cultural links between companies of the distribution grid complex and foster respect for the labor traditions of the power industry.
The works are reviewed in two nominations — «Free Topic» and «Topic, energy-related» in two age categories: up to 8 years and 9 to 14 years. «As soon as the contest was announced, my son happily agreed to take part in it. We are very proud that Ivan not only took first place in the qualifying contest at the level of IDGC Center, but also won in one of the nominations at the final stage in IDGC Holding. I hope that my son will follow in my footsteps and become a power engineer», — noted Sergey Bilyutin.
The victory of the son of the employee was commented by Human Resources Director — Head of HR management and organizational design of IDGC Centre Alexander Lyaskin: «All works, sent to the contest of children's drawings, were made in different graphic and pictorial techniques. It was difficult to choose the best in the qualifying round at the level of IDGC of Center, so we are especially proud that the drawing of the son of our employee won at the All-Russian level. The Company pays much attention to work with children. Conducting such contests, along with the lessons on electrical safety is an important activity for building knowledge of children in handling electricity with care».
The participants, who rank in the contest from place I to III, were awarded with diplomas and memorable gifts.