27 December 2011
IDGC of Centre has summed up the departing year. Particular attention was paid to analysis of the implementation of an ambitious program to clear up and expand the project narrowed ROWs along overhead power lines (both at the expense of the maintenance and investment programs). Its thorough and timely execution is the guarantee and condition of reliable and quality electricity supply to consumers. Execution of works to clear and expand ROWs is defined as a priority activity of IDGC of Centre.
In 2011, IDGC of Centre has cleared up over 21 919 hectares of ROWs, having exceeded the plan for 684 ha and by 1.5 times exceeded the last year's figures. Most of the work the Company already completed during the first half year in preparation for the autumn and winter peak loads. As a result, for 11 months of this year, the specific failure rate (number of failures, electricity not supplied, and economic damage) has been reduced by 7% compared with the last year's figures.
This year, the ROWs clearing has been performed using the most modern equipment, machinery and materials. Thus, the number of special wood shredders — mulchers has been increased in the branches. You can use them to perform high-quality and efficient clearing: the mulcher cuts trees and shrubs, grinds into wood chips and mixes it with topsoil. This method works very fast, environmentally friendly and safe. In addition, all branches of IDGC of Centre are equipped with Swedish chainsaws «Husqvarna», they are lighter in comparison with made in Russia ones, are easy to use and, accordingly, can significantly increase productivity. In all branches there are hydraulic lifts type AGP-18, the use of which allows fast cutting only part of the tree top, which is at an inappropriate distance from power line wires, without damaging the tree trunk. Also, maintenance crews are equipped with special off-road vehicles, which enable the clearance and expansion in hard-to-reach places.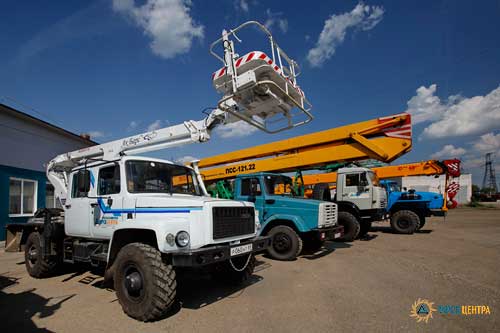 «The large-scale program to clear and expand ROWs in 2011 has been implemented with consideration of the operation through the autumn and winter period last year. This year special attention was paid not only to increase the amount of clearing, but also to its quality. The use of new technologies, innovations, modern equipment will allow further significantly reduce the risk of failures and maintain reliable operation of the electric grid of the Company in the autumn-winter period», — noted Deputy General Director for Technical Issues — Chief Engineer of IDGC of Centre Sergey Shumakher.
The work to clear up and expand ROWs will continue in the winter conditions.