19 December 2011
A solemn assembly was held in IDGC of Centre in honor of the 7th anniversary of the company and the professional holiday of the Power Engineers' Day. At it 44 employees of the company were awarded industry awards, diplomas, and thanked by the Ministry of Energy, IDGC Holding and IDGC of Centre.
By the Order of the Ministry of Energy of the Russian Federation the title of «Honorary Power Engineer» was awarded to Deputy Chief Engineer for Technical Development — Head of Technical Development Department Dmitry Rybnikov. It was under his supervision a fundamentally new concept of constructing 0.4-10 kV distribution networks was developed and is being implemented, many types of modern innovation equipment are used.
Certificate of Merit was awarded by the Ministry of Energy to Head of production control and safety Elena Kalinina. Under her direct supervision some huge work on the improvement of industrial safety has been performed and occupational safety has been highlighted as a particular priority in the values and mission of the Company. Certificates of Merit of the Russian Energy Ministry were also received by Head of Technical Inspection Department Oleg Rochagov and Chief of Technical Control Section of Technical Inspection Department Ilya Pestov. This year, thanks to the coordinated work including this Department IDGC of Centre was among the first to receive its certificate of readiness for the winter operation period.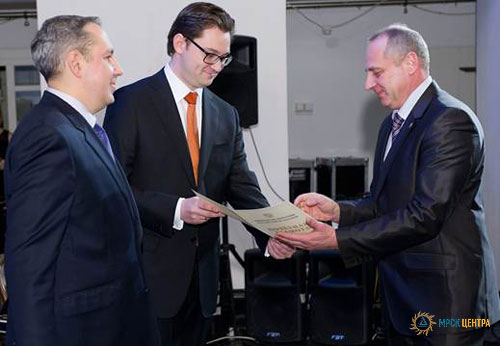 Head of Logistics and Procurement Office Roman Solyanin was marked with Industry Award of the Ministry of Energy of Russia. The team under his supervision managed to apply modern collaboration technologies with suppliers in the organization of the purchasing activity of the Company, to create a transparent competitive environment, thereby increasing the efficiency of operations of the Company.
«I'm sure everyone in our team is in the right place, does his and her best to work and does it with pleasure, — noted General Director of IDGC of Center Dmitry Gudzhoyan. — We are all aware of the enormous significance of our profession for the country and a tremendous responsibility for the welfare and comfort of millions of people. Each year shows that we are moving only forward».
For significant gains in labor four employees of the Company were declared thanks of the Ministry of Energy: Head of Technological Connection Department Edward Rakovsky, Chief of Corporate Relations Section Svetlana Lapinskaya, Chief of Agrement Section Ekaterina Kalmykova and Head of Electric Energy Transmission Department Evgeniya Kabanova.
Awards of IDGC Holding were handed out to five employees, 25 people were awarded honorary diplomas and thanked by IDGC of Centre.
For best results during the year of 2011 Head of IR Division Tatyana Miroshnichenko was entered on the Honours Board of IDGC of Centre. As the leader of one of the most effective IR-Divisions of the distribution grid complex, she has made a special contribution to the organization of interaction with the investment community.