6 December 2011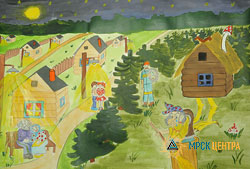 IDGC of Centre completed the qualifying round of the All-Russian Children's Painting Contest "Electricity Around Us", initiated by IDGC Holding. The purpose of the contest, devoted to the Power Engineers' Day, is to increase children's interest in the profession of a power engineer, strengthening of cultural ties between the branches and divisions of the company, fostering respect for labor traditions.
The qualifying round of the contest, which was attended by children of employees of all structural departments of IDGC of Centre, was launched in late October this year. According to the Regulations two nominations were defined: "Energy" and "Free subject" in two age categories — up to 8 years and 9-14 years.
The contest committee received more than 120 drawings. All of them are original and made in various pictorial techniques: young artists used watercolor, gouache and pencils. Some of the works, done even in the style of graffiti, were presented as sketches for the design appearance of substations.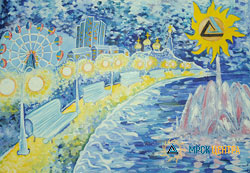 This year, the contest organizers did not restrict children's creativity, allowing young artists themselves define the themes, scope and technique of drawing execution. So, Julia Safonova, the daughter of Oksana Salyaeva, a specialist of social relations department of IDGC of Centre — Orelenergo division, used clay. With its use the young artist displayed the plot of the well known photograph of Arcady Shaikhet "Lamp of Ilyich. Shatura supplied current. December 1925" in her multi-volume picture "Miracle wonderful". Elizabeth Burtseva, the daughter of an engineer of marketing and customer interactions department of IDGC of Centre — Belgorodenergo division Nelly Burtseva, in her drawing "Night Lights of the City" presented extremely interesting illumination lighting of Belgorod. Ala Botovalkina, the daughter of an employee of IDGC of Centre — Orelenergo division Eleanor Botovalkina depicted poles of power lines surprisingly accurately and realistically.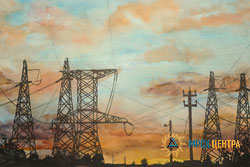 "I was struck by the brightness, originality, unconventional approach in children's drawings, I was pleased with the heat, which children of employees of the Company depict, — said Victor Ablezgov, Advisor to General Director of IDGC of Centre, Chairman of the contest committee. — Children's Painting Contest did not leave children of our employees indifferent. I am sure that the tradition of the Contest should continue into the next year".
The best works of the qualifying round will take part in the finals to be held from 12 to 16 December in IDGC Holding, and winners will be awarded diplomas of participants and prizes.
On the corporate IDGC of Centre website a category is open with the heading "Children's Drawing Contest", where the best works of participants of the qualifying round are presented.