1 December 2011
Within the business program of the exhibition "Electrical Networks of Russia — 2011" December 1st, 2011 at IDGC Holding booth a presentation of the project "Belgorod — San Diego: Sister Cities" was made. Head of Electricity Metering Office of IDGC of Centre — Belgorodenergo division Andrey Kuvshinov shared his experience in implementing "Smart Grid" technology in IDGC of Centre on the example of Belgorodenergo division.
He said that Belgorod is one of the pilot cities selected for the introduction of technology "Smart City" — "Smart Grid". At the end of 2010 there was a meeting of representatives of IDGC of Centre and the U.S. Department of Energy, during which it was decided to prepare a pilot project to exchange experience in "Smart Grid" technology. In April 2011 a delegation from IDGC of Centre and IDGC of Centre — Belgorodenergo division held a joint meeting with Gas and Electric Company in San Diego (SDG&E). As a result, the four-party Memorandum of Understanding was signed on the partnership program in the field of smart grids. The document provides for the implementation of the partnership program by participants s in energy efficiency and "Smart Grid" technology development. Its signature was another step within joint agreements between the U.S. and Russia Presidents to strengthen cooperation between the two countries in the utilities industry.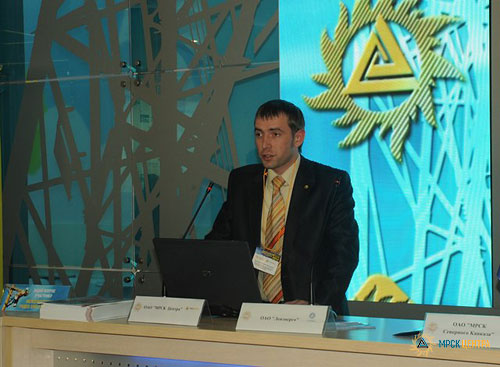 "The implementation of the 'Smart Grid' component that exists today in Belgorodenergo already now brings us to the level of leading in innovations countries. Exchange of experience, close cooperation allows both parties to raise the level even higher, "- stressed the speaker.
Andrey Kuvshinov told the audience about innovations in improving the reliability of electricity transmission, advances in energy conservation and energy efficiency. The speaker highlighted the issues related to the use of "smart" meters, alternative (renewable) energy sources, as well as improving the quality of customer service.
Concluding the report Andrey Kuvshinov said: "The development of 'smart city' technology has a strategic importance for the country as a whole in the light of government initiatives aimed at improving the efficiency and reliability of electricity supply for end-users".
The speaker of IDGC of Centre replied to questions from the audience — representatives of various utilities, research institutes and other organizations of the energy sector.
Today is the third day of one of the largest exhibitions in the electricity sector. During the day various presentations, discussions and business meetings passed. At IDGC Holding booth a presentation of Magazine "Power Lines" # 5 and Newspaper "Future Energy". The third day of the exhibition ended with a master class of the innovative project "Save and Protect", organized by IDGC Holding. Within its framework the presentation of techniques of first aid "Lifewrestling" for mass education was made.