28 October 2011
IDGC of Centre has implemented the technological connection of community facilities and increased the reliability of power supply of the tourist zone-cluster "Zadonschina".
City of Zadonsk in the Lipetsk region is a major center of Orthodox culture. Pilgrims call Zadonsky district as "Russian Jerusalem". The shrines of the province are four monasteries and dozens of temples — for over two centuries, attracting thousands of tourists and pilgrims from all over the country and abroad. The whole infrastructure of the area focuses on reception of pilgrims and visitors. A special economic zone of regional tourism and recreation "Zadonschina" was established in 2007.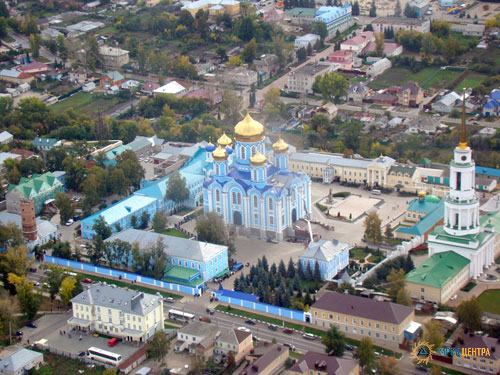 Given the unique historical and cultural tourist potential of Zadonsky district with convenient transportation access to federal highway M-4 "Don" the experts of IDGC of Centre consider its power supply as the highest priority.
This year, in order to improve the reliability of supply, a comprehensive overhaul of 16 transformer substations has been performed, more than 35 km of overhead lines have been renovated and over 40 hectares of ROWs along power lines have been cleared in the "Zadonschina". 9 package transformer substations have been constructed. More than 8 million rubles have been disbursed on all of these activities. In this district there are also works being performed on reconstruction of power lines in populated settlements — Alekseevka, Borki, Olshanets, Khmelenets. The reconstruction is carried out using self-supporting insulated wire that has a number of significant technical advantages over traditional wire. In addition, 5 voltage boosters have been installed on the power lines that increase and stabilize voltage in networks increasing the capacity of 0,4 kV power lines.
In the near future on the Zadonsky tourist trail over 44 km of overhead power lines and 12 substations will be have been constructed. The next year it is planned to reconstruct more than 158 km of overhead lines with 10/0,4 kV voltage and 106 package transformer substations. About 170 million rubles will be spent on these purposes.
The efficiency of the specially established economic zones with tourist features is the most important indicator of the overall economic situation of the Lipetsk region and its prospects. Significant contribution to improving the investment attractiveness of the region is made by power engineers, who perform technological connection of industrial and infrastructure facilities. So, in 2011 IDGC of Centre has completed the technological connection of 79 private residential construction facilities, 25 legal entities with the total capacity of 3.2 MW. The Company has provided reliable power supply of the hotel "Zadonsk" located in the city center and receives most of pilgrims, leisure center in Zadonsk and gardening partnership in the village of Kasino.