19.03.2015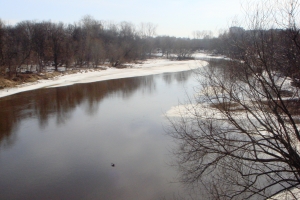 In anticipation of the spring flood IDGC of Centre - Tverenergo division is taking compulsory measures to ensure the safe operation of power grid facilities. A special commission was created for inspection of power facilities that are in high-risk areas, and checking the readiness of personnel and equipment is being carried out. Tverenergo interacts with the territorial bodies of Roshydromet, the Russian Emergencies Ministry departments, local authorities in order to obtain predictive and timely information about weather conditions that contribute to intensive melting of snow and flood risk.
Specialists of the branch have enhanced monitoring of power lines, substations, buildings and structures in the zone of possible flooding.
Equipment of crews with stock, tools, remedies, preparedness of equipment to perform work, availability and serviceability of communications, notification schemes were inspected. Floating devices, stationary and mobile pumps, and other special equipment, machines and mechanisms necessary for the prevention and immediate elimination of possible flooding of power grid facilities were checked.
Operation and maintenance personnel of Tverenergo is provided with schemes of entering sections of overhead power lines specifying the characteristics of water and other potential obstacles and ways to overcome them and detours.
A review of briefings with inclusion of the issue of the provision of first aid on water and emergency drills with the operational, maintenance and repair personnel on how to proceed in the flooded areas, including with the use of special equipment and specialized vehicles, was conducted.
The technical condition of standby power supply sources and their availability was checked, if necessary, to emergency delivery, routes and locations of standby power supply sources were identified for socially significant facilities, communication and electricity supply of which can be broken by the flood.
Cooperation with the territorial administrations of the River Shipping Company was established to comply with the rules of safety and protection of power lines and providing the necessary dimensions to the wire for passing ships, floating equipment and machinery at the intersection with power lines during the high water level.
The branch also is cleaning gutters of debris and snow in premises of Distribution Zones, performing inspection of all electrical installations located in the zone of the likelihood of flooding.
An action plan with the risks of emergencies during the operation through the flood period was developed.
According to Roshydromet, flooding of the main water reservoirs of our region is expected in the period from 23 March for 25-30 days. The intensity of floods in the region is at or below historical averages. On the rivers Volga, Tvertsa, Mologa, Western Dvina, Orsha, Mezha there is possible risk of slight water excess.
After operation through the flood Tver power engineers will inspect all structures, buildings, equipment, exposed to meltwater to determine the extent of damage and the need for repair and restoration work.