17.03.2015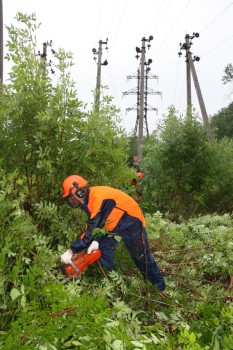 One of the priorities of implementing the production program of IDGC of Centre - Lipetskenergo division in 2015 will be still clearing and extension of ROWs. During the year the power engineers plan to perform work in an area of ​​930.4 hectares, which is 18% more than in 2014, 619.3 hectares of ROWs will be cleared by the power engineers along power lines (Conductors) of different voltage classes and 311.1 hectares to extend under the operating rules of the electric installation code. 53.3 million rubles will be spent on these measures.
Work on clearing and extension of the ROWs is performed by the power company to minimize the risk of tripping power lines due to falling trees or branches on the wire. Last year, 17% of these trips were recorded in the service area of Lipetskenergo.
To improve the efficiency for clearing and extension of the ROWs the power engineers use modern machinery - tractors, excavators, bulldozers, hydraulic lifts and special wood shredders - mulchers. This greatly facilitates and enhances the productivity of specialists. So, the mulcher, which is a crawler, allows to clear the area off ​​trees and shrubs by rolling followed by grinding the wood to forest residues, which are mixed with the top layer of soil, without requiring disposal. Modern chainsaws and brush cutters used by the power engineers are also more efficient than previously used in the clearing tools.
"The measures taken are aimed at ensuring reliable and stable operation of power facilities, increased availability of the grid complex of the Lipetsk region to effects of various abnormal weather phenomena. It should be noted that during the operation through the autumn-winter period of 2014-2015 there were no outages due to falling trees onto 35-110 kV overhead lines, which the extension was performed!" stressed First Deputy Director - Chief Engineer of Lipetskenergo Alexander Kornilov.