05.03.2015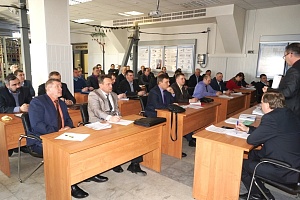 IDGC of Centre - Kurskenergo division held a working meeting with chiefs of Distribution Zones, heads of production services and sections. It summed up the production activity of Kurskenergo for 2014 and set objectives for the current year.
Opening the event, Director of the branch Alexander Rudnevsky noted that the power engineers were confidently operating through the autumn-winter period, providing reliable energy supply in the Kursk region, then moved on to the results of last year. Head of Kurskenergo said that during the reporting period the branch fully met targets of the productive supply of electricity to consumers (over 5 billion kWh), as well as production programs of repairs and maintenance. 25 substations of 35-110 kV and 409 transformer substations and distribution points had their comprehensive overhaul. 765.5 km of overhead lines of 35-110 kV and 2,138.2 km of 0.4-10 kV were repaired.
As part of the investment program implementation specialists of Kurskenergo performed in the past year construction and reconstruction projects of important for the region power facilities. In May 2014 in Pristensky district of the Kursk region the new substation (SS) 110/10kV "Revival" was put into operation. The project was implemented within the framework of a grid connection contract for facilities of the group of companies (GC) "Miratorg - Belgorod". Kurskenergo's specialists performed grid connection of a closed cycle pig farm and veterinary utilization plant with a total capacity of more than 7.5 MW. In Soviet district the 35/10kV substation "Mansurovo" construction was completed, which optimized the power supply circuit to the existing customers of Soviet district and resolved the issue of grid restrictions. "Mansurovo" also allows to create reserve capacity for dynamically developing agricultural production in the eastern part of the Kursk region. It is the third largest substation in the new century, which Kurskenergo constructed from scratch.
In 2014 Customer Service Centers (CSC) of Kurskenergo received over 30,000 requests from consumers on energy supply issues. More than six thousand contracts for the provision of additional services were concluded, which is 17% more than in 2013. More than 11,664 positive feedbacks to specialists were left by consumers in the survey forms, which indicate that the quality of services of the CSCs meets their needs.
"In 2014 we have successfully coped with our main task - the reliable and uninterrupted power supply to consumers," stressed Deputy General Director - IDGC of Centre - Kurskenergo division director Alexander Rudnevsky. "This year the staff of the branch will have to do a lot of work to maintain and increase our production capacity, not forgetting the safety and improvement of working conditions of the staff."