26.02.2015
The Youth Council of IDGC of Centre - Kostromaenergo division took part in the All-Russian Safety FLASHMOB. The action was dedicated to the "25th anniversary of the Russian EMERCOM". It was also attended by Kostroma Cadet Corps, workers of the All-Russian voluntary Fire fighter association, firefighters, rescue workers of ROSSOYuZSPAS, pupils of the city schools, members of the club "Young Rescuer" of the Houses of children's creativity "Pearl". At the sports field of Kostroma Cadet Corps 68 teenagers in uniform to music showed unarmed combat techniques and at the same time reminded themselves and the audience the basic rules of safety. All participants of the action, both the cadets, and viewers received memos on electrical safety.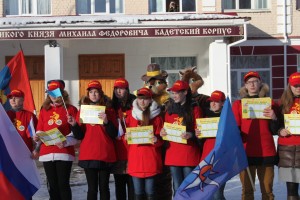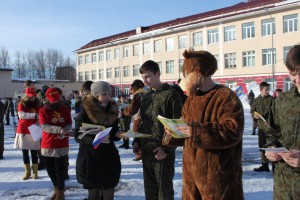 "During the FLASHMOB participants not only demonstrated their sporty attitude, but also urged all residents of the region to follow the rules of safe behaviour, thus stated that as a friendly team they are ready to fight for the safety culture of the Kostroma region residents," comments the action Chairman of the Youth Council of Kostromaenergo Zoya Krestenko.
The safety flashmob united a variety of organizations in the city that are responsible for the safety and thus proved that the Kostroma region has a great future.