17.02.2015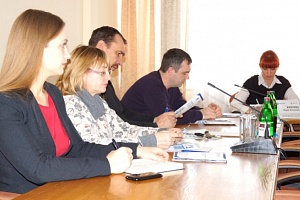 IDGC of Centre - Kurskenergo division held a meeting on connection of power installations of 15-150 kW to the grid. The event was attended by representatives of small and medium-sized enterprises of the Kursk region, Kurskenergo's management and relevant departments of the branch.
Opening the meeting, Head of grid connections Mikhail Filipkin told about the results of the branch on grid connection for the past year. In particular, he noted that during this period Kurskenergo executed 2,760 grid connection contracts - 551 more than in 2013. This statistics indicates a growing demand for grid connection services, considers Mikhail Filipkin.
Deputy Director for Sale and Development of Services of the branch Sergey Sevryukov informed about the measures taken by Kurskenergo to simplify the grid connection procedure, increasing transparency of relationships with consumers. In particular, he said that the consideration of the grid connection application and provision of an offer was reduced from 20 to 7 days, and the period of implementation of measures for grid connection - from 120 to 73 days. For some categories of consumers interest-free installment payment for grid connection for 3 years is provided.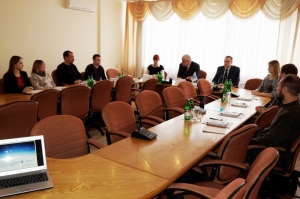 The representatives of small and medium-sized businesses were also told about the "turnkey" grid connection service when the execution of all obligations of the customer within the grid connection procedure is done by power engineers. This service guarantees high quality of work, saves time, allows to quickly perform all procedures to connect a facility to the grid.
In conclusion, the representatives of the branch responded to questions from the participants of the meeting, which mainly related to payment for grid connection, performance time, new services provided by the grid company. The power engineers supported the initiative of small business to hold such events on a regular basis as undoubtedly important for both parties.
"Such "open dialogues" allow to make the process of grid connection understandable for all categories of consumers," stressed Deputy Director for Sale and Development of Services of Kurskenergo Sergey Sevryukov. "In addition, the process of discussion helps find optimal solutions of problematic issues. We are open to appeals of our customers and are ready to assist them on grid connection issues, including on an individual basis."
All information about the grid connection procedure for consumers of Kurskenergo can be found on the company's website in the section at http://www.mrsk-1.ru/ru/clients/fitting/forms/, as well as at Customer Service Centres in the cities of Kursk, Zheleznogorsk, Lgov, Oboyan, Schigry and points to work with customers located throughout the Kursk region on sites of Distribution Zones. All questions related to power supply can also be answered by dialing the single straight phone number of power engineers of IDGC of Centre at 8-800-50-50-115 or 13-50.