11.02.2015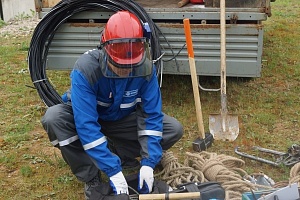 The repair campaign of IDGC of Centre - Smolenskenergo division in 2014 was implemented in full and within the planned timeframe. Total costs for repairs amounted to 185.31 million rubles. In this case, over 77,78 million rubles were spent on the repair of cables and overhead power lines of 0.4-110 kV, 6-110 kV substations - 51,71 million rubles, buildings and structures - 9,22 million rubles. Smolensk power engineers spent 24.65 million rubles to repair motor vehicles, and another 21.95 million rubles - on other expenses.
As a result of the repair activity specialists of Smolenskenergo in 2014 renovated 1,992.78 km of power lines of 35-110 kV. The power engineers comprehensively repaired 21 substations of 35-110 kV (2 substations more than in 2013). The most important of them are: SS 110/35/10kV "Russia", SS 110/35/6kV "Pronino", and SS 110/35/6kV "Roslavl". In addition, they repaired 1,306.20 km of power lines of 0.4-10 kV (which is 159.21 km or 13.88% more than in 2013) and 612 transformer substations of 6-10/0.4 kV.
Special attention in the implementation of the repair program in 2014 was given to clearing ROWs. Over the past year Smolensk power engineers cleared of trees and shrubs 1,568.25 hectares of ROWs along 6-110 kV power lines. Total costs for this type of activity amounted to about 30,42 million rubles. Work was also carried out to expand the ROWs of overhead lines along 6-110 kV in the amount of 596.7 ha. All these measures significantly reduce the risk of falling trees on wires in spans of power lines, thereby decreasing the likelihood of damage to overhead power lines.
Implementation of the plan of repairs is an important aspect of preparation of Smolenskenergo for the autumn-winter operation period. In particular, thanks to the timely implementation of the repair program, in September 2014 the branch received its certificate of availability for the autumn-winter operation 2014/2015 period.
Using modern methods of organization and application of modern technologies the branch increases reliability of electricity supply, extends the life-cycle of the equipment and reduces the cost of the planned work.