10.02.2015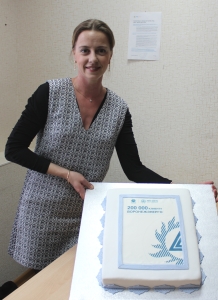 On 5 February IDGC of Centre - Voronezhenergo division recorded a visit of the two hundred thousandth customer. The "jubilee" visitor was a resident of the regional centre, a lecturer of the Voronezh State University Maria Bykova, who contacted the Customer Service Centre (CSC) of Voronezh on connection of her individual house to the grid. The Centre's staff solemnly congratulated Maria and gave her gifts to remember.
"The staff of the Centre in detail and clearly explained to me the whole grid connection procedure, answers to my questions of interest, as well as offered to take advantage of the service to support a turnkey grid connection procedure. I would like to express my warmest gratitude to the management of Voronezhenergo for taking care of their customers, attention and professionalism!" said Maria.
"We have been keeping statistics of customer requests since 2007, when in Voronezh the first Centre was opened. Customer focus, improving the quality of services to consumers is the main principle of our work," stressed, congratulating the "jubilee" customer, Deputy Director for Sale and Development of Services Vyacheslav Antonov.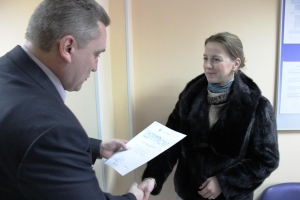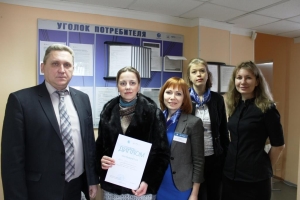 Currently Voronezhenergo has 33 Customer Service Centres including the CSC in Voronezh. Offices for work with consumers that are open in each Distribution Zone carry out full-time customer service, taking requests of consumers for grid connection, replacement of meters, the grid connection procedure support and other value-added services. Specialists of the Offices consult and take phone calls on the phone, fax, email and through the official website of the company at www.mrsk-1.ru.
Customers of IDGC of Centre - Voronezhenergo division can contact via the straight line of power engineers at 8-800-50-50-115 or 13-50 around the clock, by calling which they can be consulted on all matters with energy supply.