10.02.2015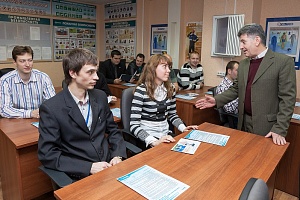 The whole system of organizing training of IDGC of Centre - Smolenskenergo division in 2014 was aimed at maintaining high educational level of employees, creating the conditions for their career and personal growth. The main areas of education were training (retraining) of working personnel to get a specialized or a related working profession, as well as skills improvement of the company's employees.
In 2014 managers and specialists were able to get specialized higher vocational education and have retraining to perform certain types of work, obtaining the right to be nominated for the personnel reserve, as well as skills improvement. All personnel was provided with training and certification on eligibility to perform a special kind of work, including the organization of operation and production of work at controlled facilities of Rostekhnadzor, testing and measurement, transportation and permission of vehicles on the line, work permit as a resuscitating instructor, training staff on methods and techniques of first aid in case of accidents and more.
For the year 980 employees improved their skills in various areas: 332 heads (33.9% of the total number of trained), 214 specialists (21.8%) and 434 workers - (44.3%). Total costs amounted to about 7.5 million rubles.
The staff training was carried out in most cases in the regional schools. All topics and directions were associated with providing better performance by employees of their professional duties, with special attention paid to occupational safety and health, skills, and safe work practices. In particular, 21 employees were trained on the installation and repair of power cables with XLPE insulation, 29 drivers learned the methods and rules of defensive driving, 25 people were given the right to work with hazardous waste. In addition, 23 employees increased the level of knowledge of fire safety rules, and 29 - occupational safety regulations for electrical installations operation.
186 employees from leaders and specialists acquired new skills in specialized schools. In this direction the branch successfully and fruitfully for several years collaborates with such educational institutions as the branch of "MPEI" in Smolensk, "Ivanovo State Power University", "Petersburg Power Engineering Institute of Professional Development" and other educational institutions.
In order to provide better training, recruitment and staff development the branch signed an agreement on long-term cooperation with a number of educational institutions in the region. According to the results of cooperation in 2014 it can be noted that at the Smolensk branch of MPEI 129 managers and specialists of Smolenskenergo improved their skills in various programs, 9 employees completed training and 10 continue their studies in the system of professional training on the basis of the non-core higher professional education program "Electric power systems and grids", and 2 employees are taking correspondence courses under the program "Electricity supply".
At the Smolensk College of Technology 30 people improved their skills, another 54 employees of the main electricity specialized working professions underwent retraining.
In cooperation with MPEI and Polytechnic College in 2014 two students' construction crews of 27 and 10 people were formed, who during the summer vacation took an active part in the construction and operation of energy facilities in the service area of the branch.
Contracts were also concluded with "Smolensk Technology College", "Vyazemsky Polytechnic College", "Vyazemsky Railway Technical College" and "Safonovsky Polytechnic College".