06.02.2015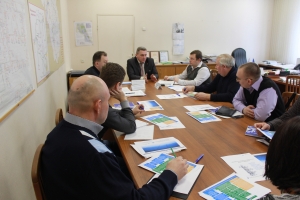 IDGC of Centre - Voronezhenergo division held a meeting of heads of relevant departments of the company with managers of small and medium-sized enterprises of the Voronezh region. The power engineers informed the representatives of the business community about the current process of connection of facilities to electric grids.
Deputy Director for Sale and Development of Services Vyacheslav Antonov spoke on measures taken to optimize the grid connection procedure. He, in particular, said that currently specialists of the Group of Companies "Russian Grids" (unites all IDGCs) develop standard regulations implementing the grid connection for applicants with electric power installations of 15-150 kW (it is under these parametres that small and medium enterprises are subject to), which, in addition to among other things, provides for reduction of the period of execution of grid connection contracts up to 90 calendar days.
There is another innovation - from January 26 to raise awareness of customers Voronezhenergo introduces SMS alert on the status of applications for grid connection. This service will allow specialists of IDGC of Centre automatically notify consumers at what stage is the performance of their applications, to report their number and date of registration, to inform about the suspension or cancellation of grid connection contracts with the failure of consumers to perform their obligations.
Head of Customer Relations Andrey Tuzhikov gave details of services to support the grid connection process - the "turnkey" grid connection and explained the benefits of the service to be ordered from Voronezhenergo. "By contacting us, you will be able to perform all the work, interacting with only one organization. We perform quality work and provide a guarantee on it," he stressed.
To conclude the event, representatives of Voronezhenergo answered the questions of consumers associated with the peculiarities of the grid connection procedures and the provision of value-added services of the branch.