29.01.2015
Specialists of IDGC of Centre - Kurskenergo division held an electrical safety lesson for schoolchildren of the Besedinsky secondary school of Kursk district in the Kursk region. The session was attended by 200 children. The power engineers told the schoolchildren about the origin of the electric current, its role in human life and the danger it represents while breaking the rules at handling.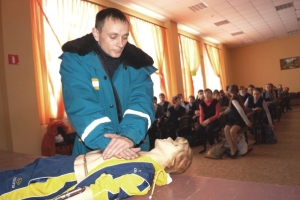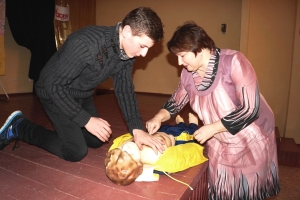 From a social video of IDGC of Centre, aimed at preventing children's electric injuries the children got to know why they cannot approach a broken wire, climb poles of power lines, and penetrate into the territory of substations. Also for clarity the specialists of Kurskenergo showed photos of power lines, poles and signs warning of the danger.
An important part of the lesson was practical training in medical first aid to a victim with electric shock with a simulator "Gosha". Interested persons could try themselves as rescuers.
At the end of the class the schoolchildren received colour posters and a book "Energolandiya" containing the rules of safe handling of electricity.
Director of the school Irina Maidanova thanked the experts of Kurskenergo for the electrical safety lesson. She noted that for the prevention of accidents it is very important for children to be reminded regularly of caution in dealing with electricity.
Electrical safety lessons are conducted by power engineers within the electric injury prevention program among children in order to generate schoolchildren's culture of safe handling of electricity, improve the quality of knowledge in this area. Until the end of the year, experts of Kurskenergo plan to conduct such classes in all 28 districts of the Kursk region.