28.01.2015
The Veterans' Council of Kurskenergo donated to the Museum of the History of Energy of the Kursk region two operational logs dating from 1961-1963 of Medvensky Distribution Zone, one of the oldest in the Kursk power system. Earlier the logs had long been kept in the personal archives of Viktor Monastyrev, who headed Medvensky Distribution Zone for over 35 years. They took pride of place in the Museum, supplementing an exposition devoted to the formation of regional energy office "Kurskenergo" in 1958.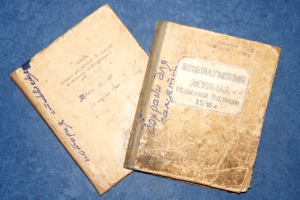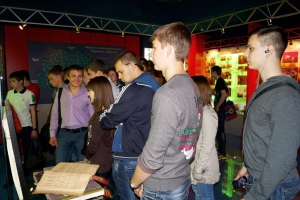 The logs described in detail the daily work of the substation "Medvenka", which together with the adjacent line of 35 kV was commissioned March 8, 1959. For example, all cases of power outages were recorded there due to maintenance work or technological problems.
They also have records of replacement of faulty equipment, modernization of the feeding centre. Thus, the record of 17 February 1963 indicates that a new 35/10 kV transformer of 1800 kVA was put into operation at the substation.
Among the first customers of the new substation were the settlement of Medvenka, the village of Panicy and Vysokoye, located 35 kilometres away from Kursk. Following them for five years all production sites and settlements of Medvensky district were electrified, as well as a number of collective farms of neighbouring regions (Kursk feeding collective farm, villages of Kotelnikovo, Polukotelnikovo, Drozdy, Bashkatovo and Shevelevo of Oboyansky district). According to the memoirs of veterans of the Kursk power system, at that time in the Kursk region 10kV power lines were constructed at the expense of the state, and 10/0.4 kV transformer substations and 0.4 kV power lines - at the expense of collective farms.
"Operational logs help trace the "life" of the substation, feel the atmosphere of the work during the actual origin of the energy system of the region. Just how intense was then the labour of power engineers can be judged by turn of speech used in the records of operators, situationally changing handwriting," underlines leading specialist of Public Relations - Head of the Museum of IDGC of Centre - Kurskenergo division Margarita Sedyikh.
In total, the Museum of the History of Energy of the Kursk region today has more than 400 exhibits of the region. Its constantly added and updated expositions, dedicated to the establishment and development of the power industry in the region, stir consistently high interest among employees and guests of Kurskenergo.