28.01.2015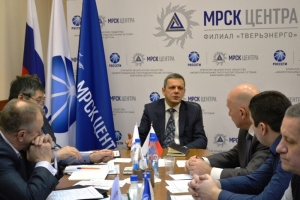 The Tver branch of IDGC of Centre held an open meeting of heads of relevant departments of the company with existing and potential applicants for grid connection of electrical installations of 15-150 kW. The event was attended by representatives of small and medium-sized businesses, gardening non-profit organizations and individual entrepreneurs.
As part of the "dialogue with consumers" the turnkey grid connection procedure for businesses and individuals, and performance of work within the competence of the client were discussed. Participants of the meeting touched upon issues of renewal of documents at confirmation and distribution of power, providing benefits at grid connection, rendering additional services from the power supply company and turnaround time.
This format of dialogue between the power company and the consumer is a step towards improving the efficiency of the grid connection, its transparency, speed, this is an opportunity to discuss and solve problems.
"Tverenergo performs a list of activities, required for the client, and offers services in support of grid connection, value-added services, focusing on the needs of consumers. We are committed to quality work, using modern materials and technologies, conduct specialized consultations to clients, we provide an opportunity to consumers to obtain optimal solutions with the possibility of maintenance of constructed electric grid facilities," underlines Deputy Director for Sale and Development of Services of Tverenergo Valery Tipaykin.
In order to use the services of IDGC of Centre you should submit an application in the prescribed form to the CSC, or on the company's website at http://www.mrsk-1.ru in the section "Customers", and enter into a contract for services. Complete information on value-added services of IDGC of Centre - Tverenergo division can be found by contacting the Customer Service Centres (CSC) in the city of Tver, Torzhok, Rzhev, Bezhetsk, Kimry and Konakovo.