16.01.2015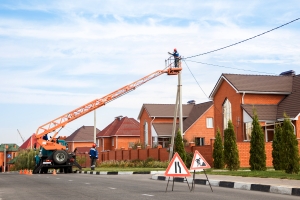 In 2014 IDGC of Centre - Belgorodenergo division created an opportunity for connection to the power grid of plots of 3,374 private developers in the private housing construction areas. Work was carried out within the framework of the regional program for 2012-2015, approved by resolution of the government of the region # 19-pp from 01.21.2013.
Electricity grid infrastructure was provided in the neighbourhoods "Rainbow" in Stary Oskol, "Southwest 2.2" in Belgorod, "Strelets-72", "Razumnoye-71" and "Dragunskoye-75" in Belgorod disttict, as well as areas for individual housing construction in Krasnoyaruzhsky, Shebekinsky , Prokhorovky, Korochansky, Krasnogvardeysky and Shebekinsky districts. In total there 240 km of cable and overhead power lines of 0.4-10 kV were constructed, 54 transformer substations with total capacity of 8.6 MVA were installed.
About 16 kilometres of modern power lines were constructed in the Gubkinsky neighbourhood "Youth". The work has begun in the new individual construction district "Strelets-73", designed for 3.5 thousand sites. Networks are constructed there for the future, taking into account future educational, cultural and sports facilities.
All work is performed with the use of modern electrical equipment, providing a high level of electrical safety. Last year the branch spent more than 400 million rubles on the realization of the planned scope.
Since the start of the program for individual housing construction in the Belgorod region the power engineers provided power to more than 67,000 sites and constructed for that about 4.4 thousand km of power lines, installed more than 1,000 transformer substations with total capacity of 188 MVA.