30.12.2014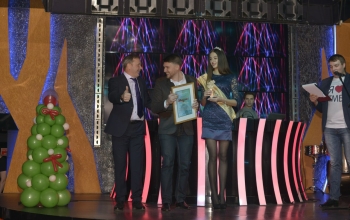 A foreman of a crew for diagnostics of electric equipment of Tambov District Distribution Zone of IDGC of Centre - Tambovenergo division Pavel Kitashin was among prize winners of the established by the city administration of Tambov special award for significant contribution to the realization of the main directions of the youth policy in 2014. The power engineers won the nomination "Deserved", which is awarded for active participation in city events. The award ceremony is traditionally held on the eve of the New Year, as part of an urban youth carnival organized by the Education Committee "Snowstorm". Head of the city administration of Tambov Alexander Bobrov handed a prize winner diploma to Pavel.
The authorities of the regional centre award youth prizes annually. Their nominees are young professionals, students of higher and secondary specialized educational institutions, representatives of volunteer groups, winners and laureates of the city festivals and programs. Among the award nominations - "Students' Government", "Universal Specialist", "Partner", "Initiative", "Good Heart".
Pavel Kitashin in 2014 won the city festival of amateur creativity of young workers "Spring in the Trend" in the nomination "Pop Vocal". In addition, he successfully acted as a host at the festival of vocal, instrumental and rock bands "Blue Bird". The young power engineer has other creative talents. In the same year Pavel became the captain of Tambovenergo's Club of the Funny and Inventive team, which won the "silver" at the Club of the Funny and Inventive festival of IDGC of Centre. He also performed a major role in the play "Tambov Treasurer", presented by specialists of the branch at the I review competition of amateur arts of IDGC of Centre and won the Special Jury Prize.
"Awarding in the category "Deserved" in 2014 was held for the first time, so for me it was a special honour to receive this award. In many respects it became possible due to the youth policy implemented in our company. I want to express my gratitude to the leadership of Tambovenergo, which creates all the necessary conditions for the development of creative abilities of employees for the opportunity to develop their talents," stressed Pavel Kitashin.