26.12.2014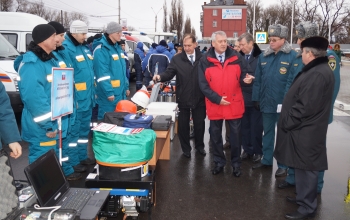 Specialists of IDGC of Centre - Kurskenergo division participated in a show of forces and means involved for emergency situations, which passed in the Kursk region. The show was held in the framework of an educational and methodical gathering of Departments of Civil Defense, of the territorial subsystem of the Unified State Emergency Management System of the Kursk region in order to check availability of the emergency services to the elimination of possible emergency situations.
The Kursk branch of IDGC of Centre was presented by a first responding mobile crew of Central section of the substation service. The power engineers demonstrated equipment and vehicles used by them. In particular - a mobile electrical laboratory for tests of equipment of 35-110 kV substations and electrical power cables, the use of which can significantly reduce the time for fault location in sections of power lines. In addition, they showed participants and guests of the show how a compact thermal measurement system, an ultrasonic thickness meter and an earth resistance indicator work, which are used to control the condition of power facilities.
Professionalism of the staff and technical equipment of Kurskenergo's units were highly appreciated by the organizers of the show. According to Deputy Governor, Chairman of the Committee on the exercise of powers in the field of civil defense, protection of population and territories from emergency situations and fire safety of the Kursk region Vasily Zubkov, the branch over many years has had consistently a high level of availability of the forces and means of prevention, minimization and mitigation of natural and man-made disasters.