15.12.2014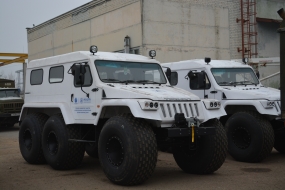 For 10 months Tver power engineers of IDGC of Centre added 21 vehicles to the fleet. The power engineers purchased 1 GAZ crew car, 2 GAZ snow and swamp-going vehicles, 2 snow and swamp-going vehicles on low-pressure tires, 8 snow and swamp-going vehicles "Tinger" and 8 trailers to deliver them to places of work. All the motor vehicles were distributed to services of the branch. Until the end of 2014 it is planned to acquire 2 universal pole-hole diggers BKM on KAMAZ chassis and 4 UAZ crew cars for the branch fleet.
Upgrading and adding vehicles is the key to the success of the power engineers operation. This is especially true in the autumn-winter period, when adverse weather conditions require quicker response of first responding crews and restoration activities.
The GAZ 34039-32 snow and swamp-going vehicles became necessary in the territorial conditions of the Tver region to be acquired. This vehicle class has a unique cross-country technology. The transport snow and swamp-going vehicle was developed and designed for delivery of goods and people during maintenance work of oil and gas pipelines, and power lines. GAZ-34039 snow and swamp-going vehicles are used to perform a wide variety of work in places where the use of fixed equipment is impossible or unprofitable.
High cross-country features and good endurance even in very extreme weather conditions became important criteria when purchasing the snow and swamp-going vehicles "Tinger". This model is characterized by compactness, maneuverability and excellent speed characteristics. The snow and swamp-going vehicle Tinger is an amphibious tracked one. It is designed to navigate through diverse terrain including swamps, snow, forest planting, and mountainous terrain. This vehicle can simultaneously replace a four-wheeler and a snowmobile. The snow and swamp-going vehicle will be an excellent alternative to multi-ton vehicles, allowing first responding mobile crews inexpensively and very quickly to get to desired areas in the implementation of various types of work and elimination of failures at power lines.
The acquisition of the snow and swamp-going vehicles on low-pressure tires TREKOL-39294 was also important for the power engineers. If you lower the pressure inside a car tire, it will increase its area of contact with the ground, and consequently will increase the footprint, reduce the specific pressure and as a result - improved throughput, allowing crews of power engineers to overcome serious obstacles. The car body has very low thermal conductivity and water absorption, as well as the possibility of operating in extreme temperatures from - 45 °C to + 45 °C.
"Today, modern vehicles are more important than ever before to solve the task of power engineers to ensure reliable and uninterrupted power supply to consumers. The length of overhead lines of Tverenergo reaches more than 48 thousand kilometres and many ROWs are located in remote places. Availability of off-road vehicles will allow significantly to reduce the time of restoration operations in the event of technological failures and adverse weather conditions during the period of peak demand," underlines Deputy General Director of IDGC of Centre - Tverenergo division director Mikhail Pilavov.