11.12.2014
As part of the Year of Energy Efficiency, announced by IDGC of Centre in 2014, in the regions where the company operates thematic lessons on energy saving are held. For example, IDGC of Centre - Tverenergo division since the beginning of the new 2014/2015 school year has conducted more than 30 lessons on energy saving and energy efficiency.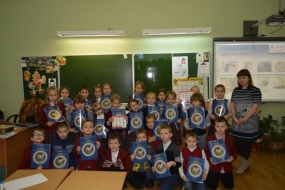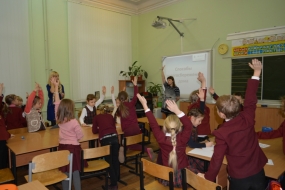 In December representatives of the company told schoolchildren of elementary school in gymnasium # 6 and secondary school # 5 of the world's energy resources, explained the basic rules of energy saving and talked with the pupils on the topic of preservation of existing and finding new sources of energy. In addition, the children were told that any household appliance has its own class of electricity consumption, and the higher it is, the less energy the device requires.
First-graders of Tver gymnasium # 6 were active and smart. They surely liked this lesson. No question was unanswered. The children gave necessary and practical pieces of advice on simple rules of energy saving at home: do not keep windows permanently open, seal window frames for the winter, turn off unnecessary electrical appliances at the moment, as well as arrange furniture and equipment properly.
According to a first grade teacher of gymnasium # 6 Tatiana Nakrokhina, the practice of conducting energy conservation lessons is certainly useful and promising. Specialists tell the schoolchildren on the basis of simple and accessible examples why they need to take care of electricity and how to do it. Thus the main task is solved - children from an early age are taught to be thrifty and save.
Tver gymnasium # 6 is not the first and certainly not the last, which was attended by specialists of IDGC of Centre - Tverenergo division. In all 36 districts of the Tver region classes on energy saving are held. In December these lessons were conducted in schools of Oleninsky, Zharkovsky, Rzhevsky, Selizharovsky, Spirovsky, and Udomelsky districts.